I've been so busy these last few weeks babysitting subcontractors that I haven't gotten around to updating the blog, so here's three weeks worth of construction rolled into one post. It makes it seem like more progress has happened that way but, actually, we've done more backtracking than anything. Every day that I go over to the house I find something else has been broken or damaged. In the last week alone, we've had to replace the bathtub and toilet because they were cracked by subcontractors….none of which would confess to the crime, of course! And several large holes got knocked in the drywall…the same drywall which was freshly completed. That means both the drywaller and painter will need to return for touch ups. It is a vicious cycle!!
But, onto the progress photos….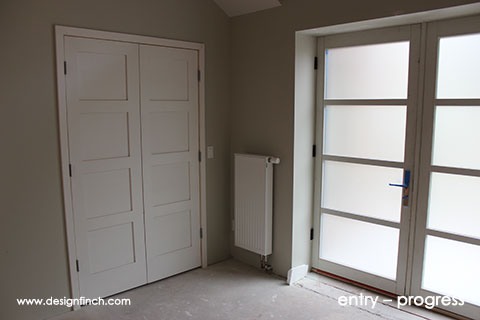 After being delayed by the fabricator for a few weeks, our interior doors finally arrived. We went with a four panel style to mimic the design of the front door. They still need to be painted before we can install hardware, but I like them so far. Such an improvement over the cheap, hollow core doors this house had before.
In this photo you can also see one of our new radiators. The old baseboard heaters we had before were such an eyesore and so inefficient. We almost froze to death the couple of times we slept there before the remodel. I honestly wasn't thrilled about spending money on radiators, but the temperature stays much more comfortable now. I estimate that we should recoup the money we spent on them in approximately 125 years.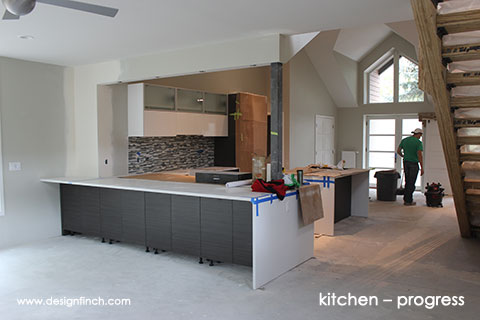 Our kitchen countertops were just installed. The countertop guy still needs to come back to permanently attach the waterfall edges, though. I've informed him that the bubble gum and masking tape that are currently holding them together just aren't going to cut it. Coming from our tiny, one butt kitchen in the condo, I think we may have gone a little overboard adding counter space in the new kitchen. I can't even imagine how amazing it will feel to be able to spread out and cook a real meal in here. We may even have space to use more than one pot at a time!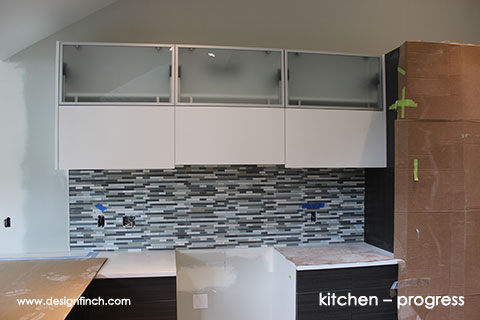 Here's a closer view of the glass tile backsplash in the kitchen. Since everything else in the house is pretty neutral, we went a little crazy with the accent tile. I'm still nervous that it may be too much, but I'm thinking it will tone down once we have grout and appliances. Maybe.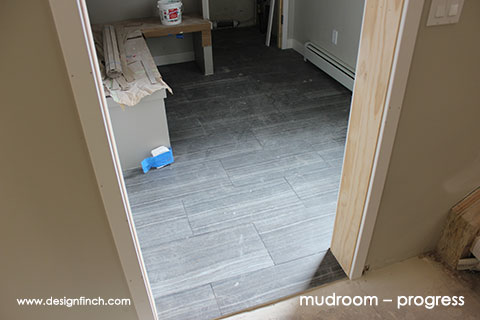 More tile work in the mudroom. This is actually a terrible photo of the tile because it's currently covered with a thick film of construction dust, like every other surface in the house.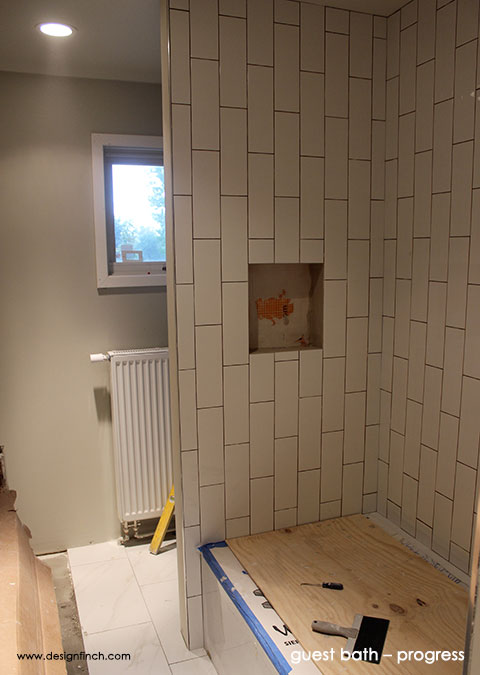 This is the partially complete tile in the guest bathroom. I threw caution to the wind and decided to have them run the subway tile vertically in the shower because my brain is exhausted with all the decision making!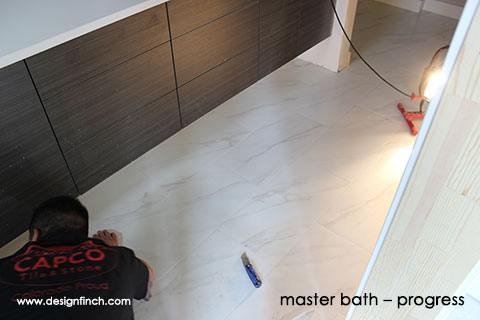 We used the same tile for the floors in both bathrooms. This is the white grout going in the master bath.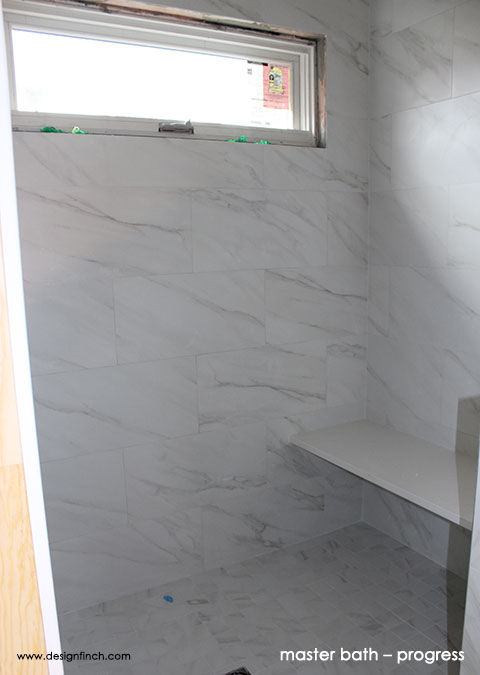 The master shower is coming along nicely. That inaugural shower is going to feel pretty amazing! There is a lot of construction stress to wash off.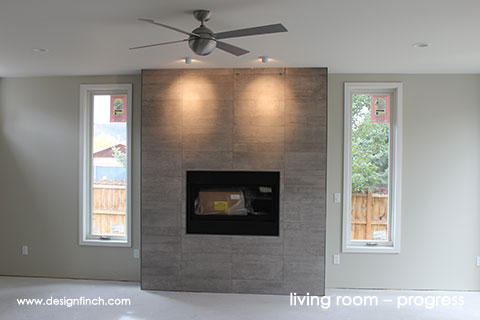 I love the tile we picked for the fireplace wall most of all. We really wanted something that looks like concrete, since a board-formed concrete wall was out of the budget. This was a good, budget-friendly compromise.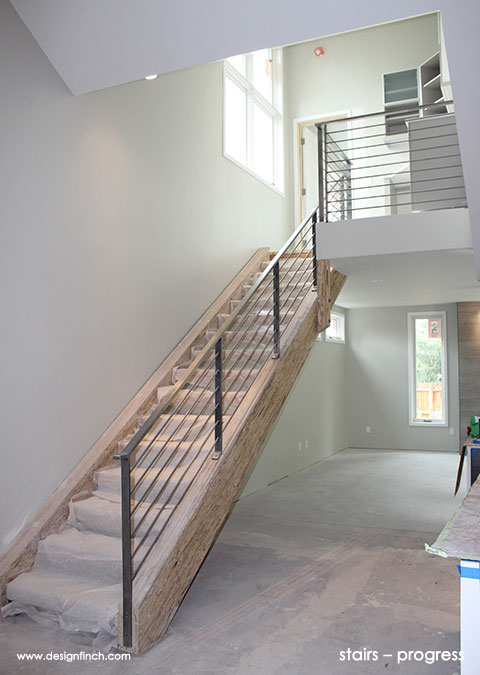 I can't even begin to describe the drama surrounding these stairs. Hopefully someday I'll forget the thousands of  conversations and painstaking decisions that went into birthing the stair rail, and just be able to climb the freakin' stairs without over-analyzing every little flaw. But today is not that day, my friends.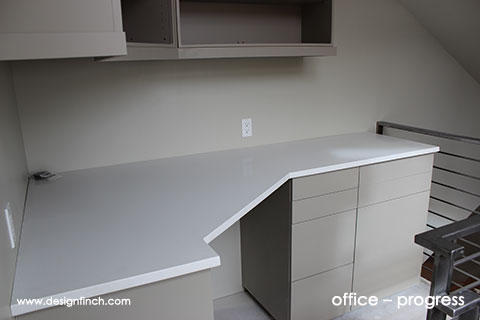 This will become the new world headquarters of design finch! I designed this to be a standing workspace with lots of cabinets to conceal my files, printer and other clutter. It is a slight upgrade from my days in the cloffice!
Not depicted in these photos are the hundreds of excuses I've heard from various subcontractors about why they can't show up when scheduled to get their work done. That is an entire blog post in itself!