Ugh, this was seriously one of the most frustrating weeks of our remodel project so far! The previous week felt super productive with a lot of big projects crossed off the list, but the forward momentum came to a grinding halt with the drywallers this week. Our contractor had estimated that it would take the crew about 2 weeks to hang and texture the drywall, but they just wrapped up week 4 and still aren't quite done. None of the other subcontractors (painter, tile, hardwoods, etc) can get in to do their work until the drywall is finished so everything else is currently on hold. They claim the reason it is taking so long is because we chose to do a smooth, grade 4 finish that requires more steps – although they knew this going into the job!!! I will stop talking about it before I get too fired up….
Let's talk about a fun topic instead – lighting! All of the fixtures I ordered have come in and are waiting to be installed (once the drywallers finish, of course!). I spent many, many hours researching lighting and choosing fixtures to complement the clean, contemporary style of our decor. There are so many gorgeous fixtures out there, but they get insanely expensive fast! I did my best to balance cost, form and function when I was shopping. Here's what I ultimately picked:

Sources: Master Bedroom, Master Bath, Mudroom, Kitchen, Dining Area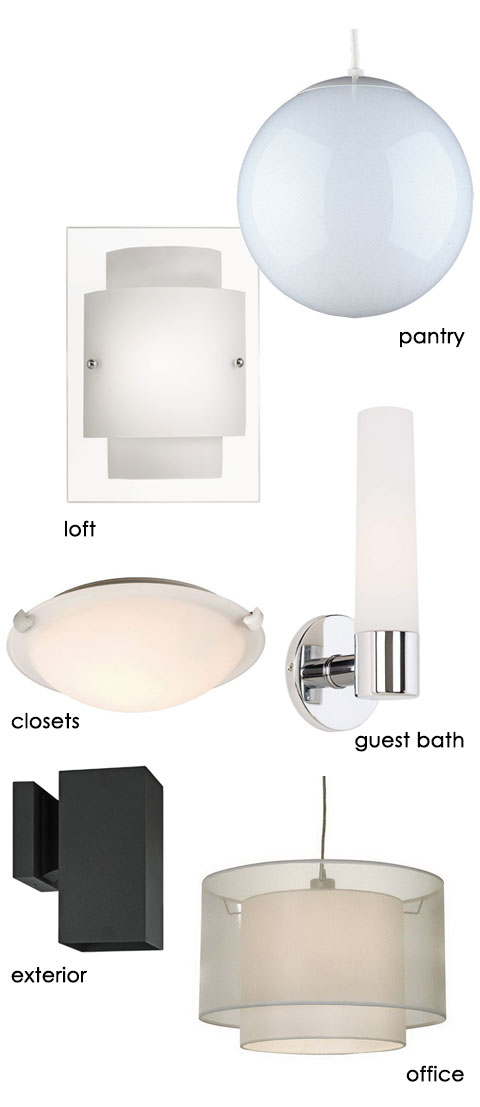 Sources: Pantry, Loft, Closets, Guest Bath, Exterior, Office
I did all of my lighting shopping online, which was convenient but difficult to get a good sense of the scale and quality. My favorite source is called Euro Style Lighting. They are not paying me to mention them, although I wouldn't be sad if they wanted to send a few free fixtures my way!