Good news – there was a lot of exciting progress made this week! Bad news – my camera battery died halfway through photographing everything, so you'll just have to take my word for it.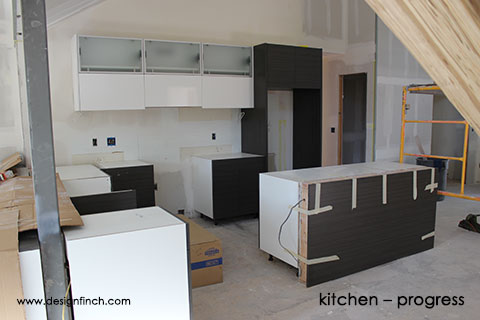 All of our cabinets were installed this week and we are so, so happy with the way they turned out! We went for a European look and did different finishes on the upper and lower cabinets in the kitchen for an interesting contrast. We really wanted a clean and contemporary design in the kitchen since it's focal point of the house.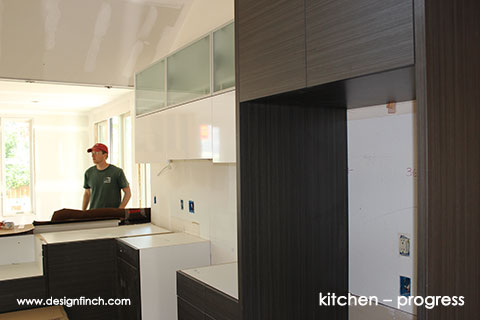 The lower cabinets are textured melamine from Fina and the color is called Spring Blossom. I had them run the grain on the doors horizontally instead of vertically (we chose the exact same finish for the floating cabinets in both bathrooms). The upper kitchen cabinets are also from Fina. They are made of white ultra gloss MDF. The top row has frosted glass doors with aluminum trim.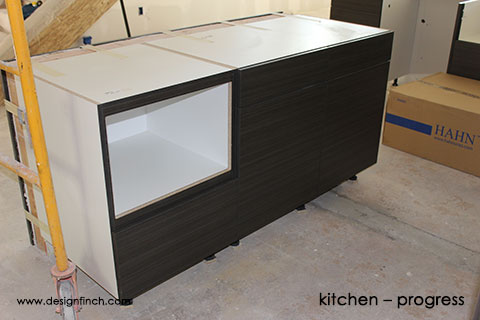 The kitchen island has a spot for our built-in microwave drawer.
One of the lower cabinets has a pull out with a spot for our trash and recycling containers.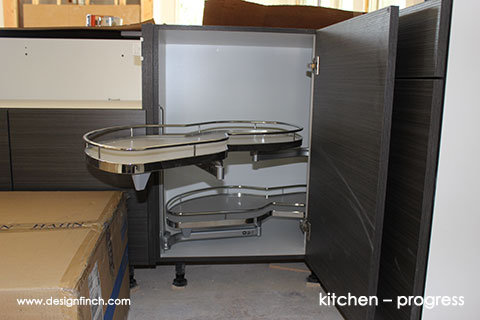 We wanted to incorporate as much functional storage as possible. Originally I was leaning towards a lazy susan for the corner cabinet, but then I discovered this cool gadget called the LeMans II for storing pots and pans.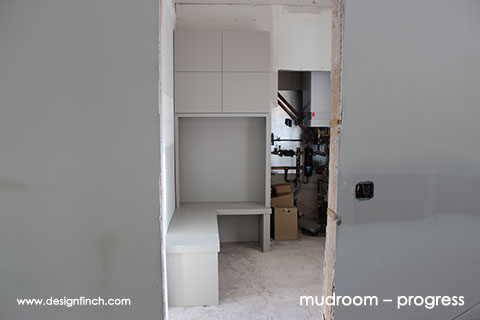 The cabinets in our mudroom were also installed. These are painted maple MDF from Fina and the color is called Silver Moss. In here, we designed an L-shaped bench with cabinets above. The nook above the bench will have hooks for coats.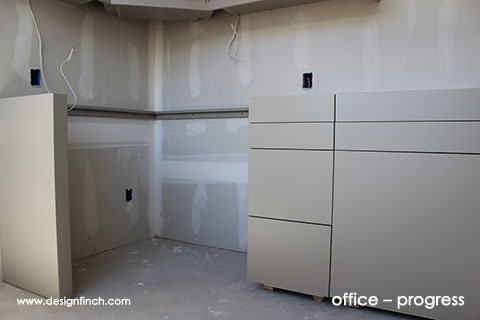 The cabinets in the office match those in the mudroom. I designed a standing-height desk because I despise sitting in an office chair all day. The cabinet on the lower right will hold our printer and the adjacent cabinet contains two letter-sized file drawers – one for personal and one for business. There are also cabinets above, but this is when my camera battery died so there is no photographic evidence of those.
Some of the other major accomplishments this week:
Solar panels were installed on the roof for our radiant heating system.
The cedar siding around the front porch was completed.
Approximately 95% of the exterior siding is finished.
The drywall is around 50% complete.
Shingles were put on the roof.
That's the kind of progress I expect to see every week from here on out!