Week 20 has come and gone. If you've been following along from the beginning, you may remember that this entire remodeling project was scheduled to take 20 weeks and we were expecting to move in over Labor Day weekend. Well, that is clearly not the case. The new target is October 1st, but there is still a lot to be done! The construction site was a beehive of activity this week.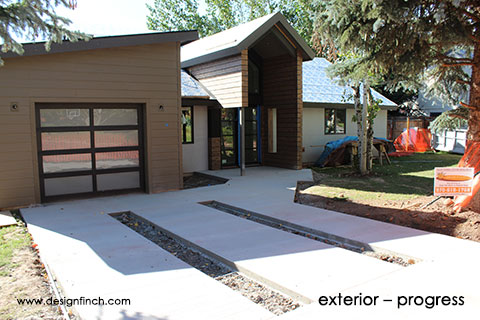 It poured this week….in more ways than one. The new driveway, sidewalk and patios were poured, despite the rainy weather. The crew tented the area with tarps to keep the rain off the wet concrete until it cured. We had them do a broom finish to add some texture, then score a square pattern to help alleviate cracking. I designed the pervious driveway with rectangular cutouts to allow for groundwater recharge, which is a practice common in sustainable construction. I got a lot of resistance from our contractor when it came time to build the driveway, but I'm glad that I stood my ground. The rectangular spaces will be filled with either grass or river rock, we haven't decided yet.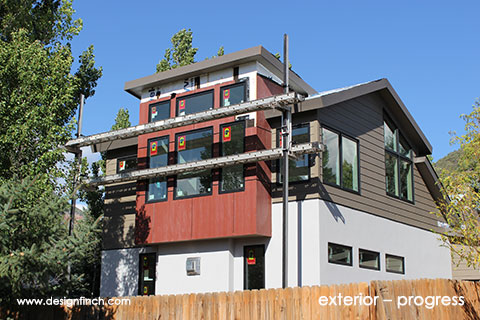 Coincidentally, the maroon panels on the exterior started going up the same day as the first Aggie football game of the season. We couldn't have timed that better! Gig'em! Jason was skeptical of the red color when I picked it out, but we're both really happy with how it's coming together. I think the exterior needed that bright pop of color to offset the gray and taupe siding.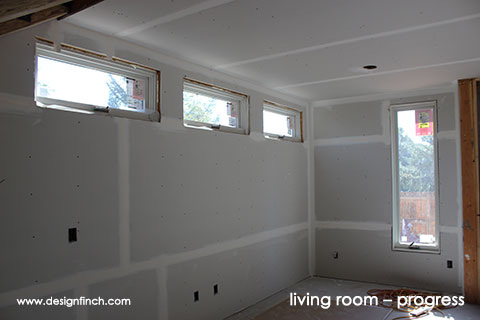 Inside, the burrito guys were busy taping and mudding drywall all week. The texture should go on this coming week, then paint will hopefully follow.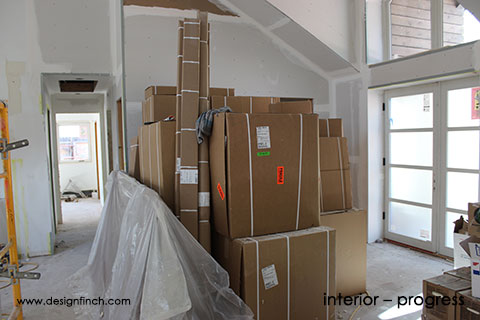 Numerous boxes containing our kitchen, bathroom, mudroom and office cabinetry were delivered. This is only half of them. The cabinet installation crew will begin this coming week and I'm so excited to see these spaces start to come together!
It's still far from livable, but it's looking more and more like a house every week. Fingers crossed for an October 1st move in!