After we went under contract on our house, one of the first things we did was compile our thoughts on the future remodel/addition into a project brief. I'm a visual thinker, so this process was a helpful way to organize and communicate our ideas in a linear way. We tried to include all of the key details about the project that an architect or contractor would need to get a clear understanding of the scope and determine if our project was a good match for their firm. Before scheduling any face-to-face meetings, we first sent the project brief to the architecture firms that we were interested in interviewing and gave them the opportunity to become familiar with our project. This proved to be really efficient way to convey a lot of information upfront. Jason joked that we were going to scare everyone away before we even met them, but the architects and contractors have expressed that they really appreciate having the project brief for reference.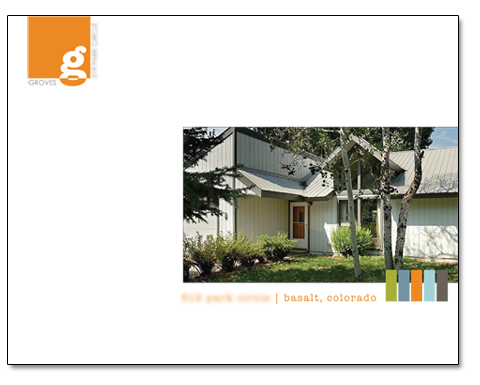 Apparently we have a lot of thoughts about a lot of things. By the time I finished laying out the content in InDesign, our project brief was eight pages long (not so BRIEF)! I organized info into the following sections, including a few inspiration photos on each page.
Clients – provides a quick snapshot of who we are and what we have planned.
The House – this section outlines where the house is located, when it was originally built, the size, orientation, etc.
Vision – describes the ambiance we envision for our humble abode (open, efficient, contemporary, minimal, sustainable, organized, etc.)
Needs – a list of things we absolutely gotta have in this house, such as a new master suite, office space, added storage space, gas fireplace, etc.
Wants – a long list of things we'd really like to have if our budget allows, for example, an updated exterior facade, windows with views of Mt. Sopris, updated guest bathroom……this list goes on and on…..
Budget – this is the page where $hit gets real…and definitely scares a few folks away.
Next Steps – the final section discusses our timeline and scheduling a face-to-face meeting to discuss the firm's design process and fees.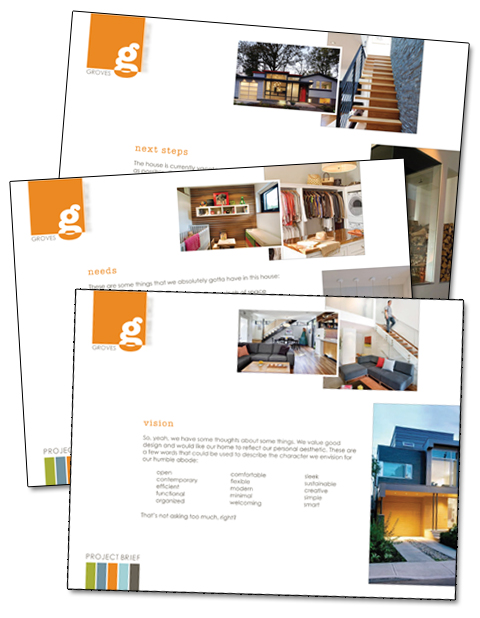 So, yeah, we definitely put a lot of time and thought into the architectural project brief but having it has been so invaluable. It provides a benchmark to help determine if design decisions align with the big picture goals for our home. In the long run, this has saved us time and hopefully money, too.
If you're planning a design or construction project, I'd be happy to help you put together a project brief. Let's talk!