I recently realized that in the eight years we've been married, Jason and I have lived in six different houses. Apparently we like to move a lot. Or we're gluttons for punishment, I'm not sure. Let's take a little tour of the places we've called home, shall we?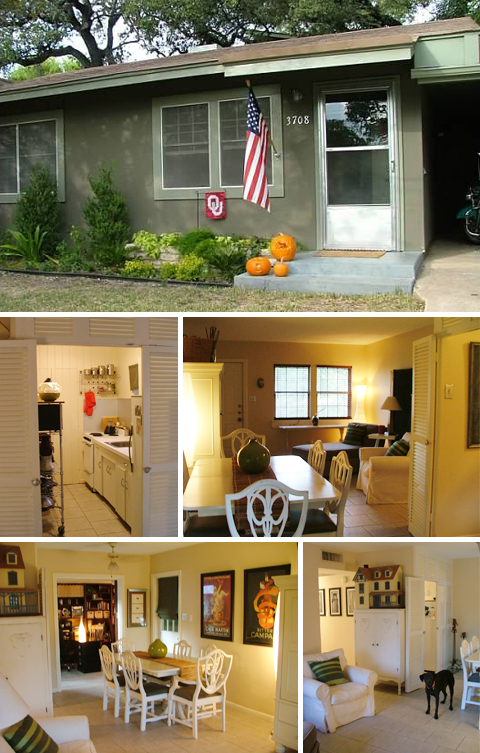 Home #1
City: Austin, TX
House Number: 3708
Lived Here: 1 year
Life Phase: newlyweds
Loved: the novelty of living under one roof….in Tarrytown, no less!
Quirks: the washer and dryer was in a funky shed in the backyard
Favorite Space: the retro kitchen
Favorite Memories: regularly walking to Mozart's for coffee/dessert
and taking Denver for swims in Lake Austin
Lesson Learned: sharing closet space should have been it's own chapter
during premarital counseling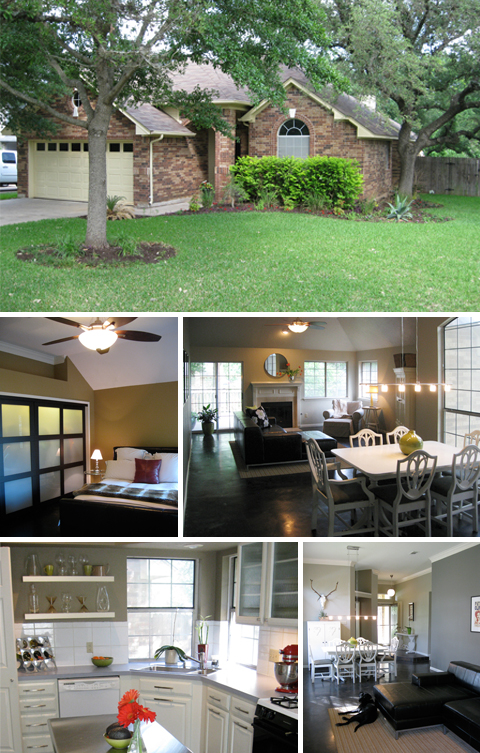 Home #2
City: Austin, TX
House Number: 5919
Lived Here: 4 years
Life Phase: first time homeowners
Loved: the backyard and deck
Quirks: we never got around to putting up curtains the entire 4 years we lived here
Favorite Space: master bedroom
Favorite Memories: remodeling almost every square inch
(see before and afters here)
Lesson Learned: one trip to Lowe's or Home Depot inevitably leads to ten more
Home #3
City: Keystone Lake, OK
House Number: 2957
Lived Here: 2 years
Life Phase: law school
Loved: the lake view
Quirks: earthquakes!!!
Favorite Space: the gourmet kitchen
Favorite Memories: happy hours on the back porch overlooking the lake
Lesson Learned: maintaining a big lake house leaves little time or money
to actually enjoy the lake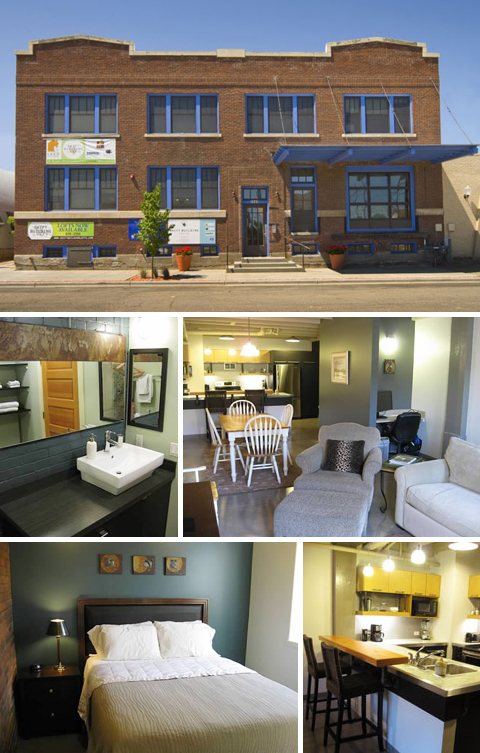 Home #4
City: Billings, MT
House Number: B-21
Lived Here: 1 summer
Life Phase: law school internship
Loved: the convenience of downtown loft living (see more loft pics here)
Quirks: a busy train track that ran mere feet from our bedroom window
Favorite Space: modern bathroom
Favorite Memories: home base for weekend road trips throughout Montana
Lesson Learned: sharing a washer and dryer with strangers is awkward,
especially when said strangers fold your "delicates"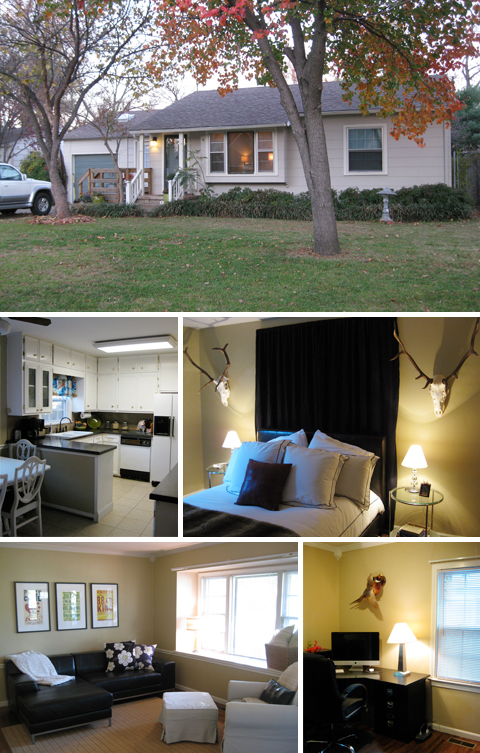 Home #5
City: Tulsa, OK
House Number: 4119
Lived Here: 1 semester
Life Phase: last. semester. of. law school.
Loved: short commute to work and school
Quirks: no shower, only a funky little bathtub that was
apparently made for little people
Favorite Space: the dog room
Favorite Memories: walking to restaurants in Brookside
Lesson Learned: scalding hot showers are underrated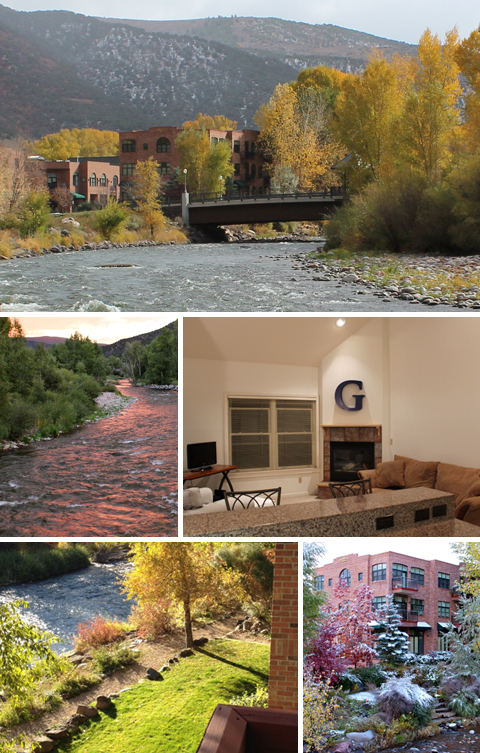 Home #6
City: Basalt, CO
Lived Here: 10 months and counting
Life Phase: mountain goats
Love: living right on the river
Quirks: living in what is apparently a black hole as far as
mail delivery is concerned
Favorite Space: the great outdoors
Favorite Memories: falling asleep to the sound of the river
Lesson Learned: 700 sf condo + 2 rambunctious labrador retrievers = insanity
In summary, we've lived in a duplex, three single family houses, one loft and a condo. We've lived in a big city, in the suburbs, in a small town, on a lake, and on a river in the mountains. We've lived in spaces as small as 700 sf and as large as 4,500 sf. Some have had yards, others haven't. We've lived without modern conveniences like dishwashers and ample closet space…..and somehow lived to tell the tales. I guess that you could say we're flexible and up for a challenge.
Our next home will be just that….a challenge. Stay tuned for our latest and perhaps craziest adventure in homeownership. Home #7 deserves a blog post of it's very own…..