One of my claims to fame is that I'm a notoriously light packer for trips. Case in point, I once traveled to Europe for the summer and took only what I could fit in a backpack. On another trip abroad, I packed everything in a carry-on suitcase for our two week honeymoon to Italy. (The trip home was a different story since I had to buy another bag to tote back all of the souvenirs we purchased.)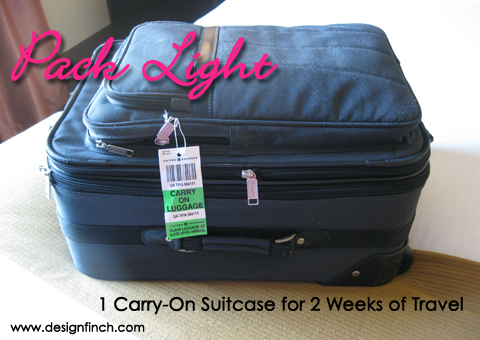 Anytime I travel, especially when flying somewhere, I prefer to keep my luggage to one carry-on bag so that I'm not loaded down with extra stuff. Packing light is an art form that I'm still working to master, but I'll go ahead and share my current strategy with you. These pictures were taken earlier this summer when I packed everything for a two week trip in a small rollaboard suitcase. My travels took me from Colorado to Texas for a wedding and baby shower (not for the same couple, just to clarify!), then to California for another wedding, followed by a week in Oklahoma on a business trip. Needless to say, it was slightly tricky to plan for this trip considering the various attire that was required for these different events.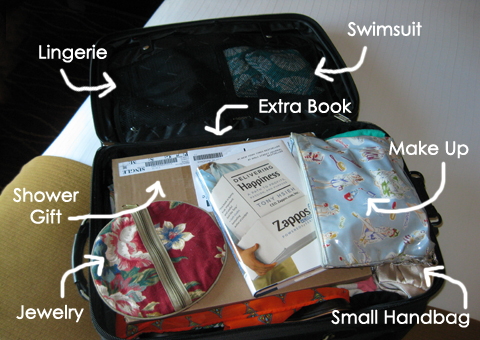 This is the first layer of my suitcase when opened. The top section has pockets where I hide my "unmentionables" from the nosy TSA agents. I like to keep my makeup on the top so that I can easily reach in and grab it for touch ups without having to dig through the entire bag in the middle of the airport. I keep a clear quart-sized baggie for liquids inside my purse so that I can pull it out quickly to breeze through security.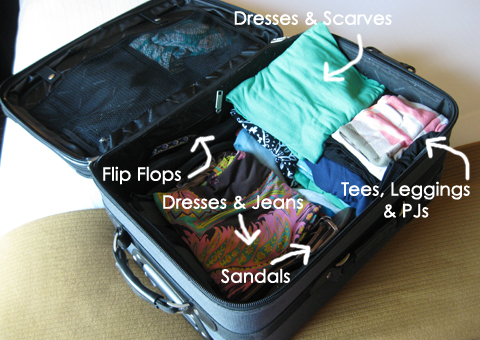 The second layer is folded stacks of clothing, mostly dresses, tees and scarves that don't take up much space at all. In fact, here is the complete list of everything inside this carry-on for my two week trip:
Clothing
1 Cocktail Dress
3 Sundresses
3 Business Dresses
1 Pair Skinny Jeans
1 Pair Capri Leggings
2 Knit Tees
2 Tank Tops (1 for working out, 1 for layering)
1 Swimsuit Cover Up
Swim Suit
Pajamas
Shoes
Nude Heels
Metallic Sandals
Flip Flops
Accessories
Pearl Earrings
Chandelier Earrings
2 Scarves
1 Slip
Lingerie
Other
Toiletries
Flat Iron
Cell Phone Charger
Book
Camera
Sunglasses
Small Evening Handbag
My biggest space-saving tip is to pack only versatile, mix-and-match pieces that can be layered and worn several different ways to create as many outfit options as possible. I especially love dresses that can be worn alone (for a dressier occassion) or as a long top over jeans or leggings (for casual events and travel days). Here are 7 items, all of which I actually own and took on this particular trip, combined to create 12 different outfits.

Green Wrap Dress | Pink Swimsuit Cover-Up | Teal Tee Dress
Gray Tee | Skinny Jeans | Capri Leggings | Ombre Scarf
Coincidentally, these pieces all came from Old Navy on sale….what can I say, I'm a light packer and a bargain shopper! As far as I know, no one has ever accused me of being high-maintenance.
What kind of packer are you? Do you have any space-saving tips to share?