There are tons of free printable menu planners on the interwebs, but I've just never been able to find "the perfect one". I searched high and low for a planner where I could write my menu plan on one side and make a categorized grocery shopping list on the other. It helps me to see them side by side. I can't tell you how many times I've gone to the grocery store with my list, only to forget which meals I'm there shopping for. (If Alzheimer's can set in during your 30's, then I'm pretty sure I have it!)
So, I designed my own menu planner and now I'm sharing it with you! Another nice thing about this one is that I created editable text fields, so you can type your menu plan and shopping list directly on the PDF. If there are staple items you buy often, then you can add those to the shopping list and save the template to your computer. That way you'll never forget the red wine, dark chocolate, and mint Milano cookies (or maybe those are just my staples?).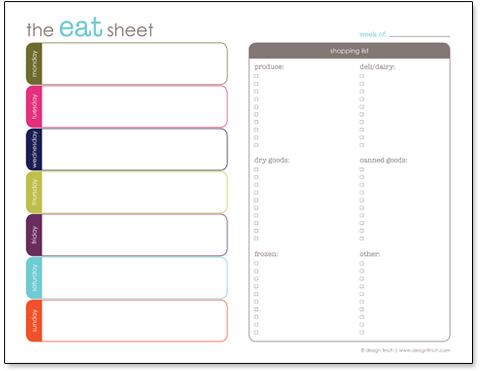 Over the past couple of months, I've shared my weekly menu plans. Out of the 30 or so meals we've made during that time there were a few that were especially delicious. These are some of our recent favorites that will definitely be making repeat appearances on the menu! They were all pretty quick and easy to prepare, yet tasted like gourmet meals from a fancy restaurant. Try them if you haven't already and let me know what you think!
Image Sources and Recipes Linked Below
Whole Foods: Butternut Squash & Coconut Soup w/ Shrimp
Cooking Light: Spicy Beef & Bell Pepper Stir-Fry
A Couple Cooks: Vegetarian Rice Bowl w/ Kale, Red Pepper & Egg
Annie's Eats: French Onion Grilled Cheese
The Pioneer Woman: Fig-Prosciutto Pizza w/ Arugula
Cooking Light: Roasted Veggie Couscous w/ Chickpeas
Cooking Light: Turkey Italian Sausage Soup
Resources:
Free Weekly Menu Planning Printables
Free Monthly Menu Planning Printable
Free Sample Menu Download
Previous Menu Plans:
January 13-19
January 20-26
February 3-9
February 10-16
February 17-23
February 24-March 2