Ah, February. You're that tricky halfway point between Christmas vacation and Spring Break. We're supposed to get 7-10 inches of snow in the mountains this weekend and all I can think about is jetting off to some tropical destination to bask in the sunshine with a piña colada in hand. Don't get me wrong, I adore the snow and the mountains, but I desperately need a tan. Anyone want to join me for a little vacay?
In the meantime, this week's menu marries flavors from around the world – Greek, Italian, Asian, Mexican, Indian. So it's kinda like a vacation for your taste buds! And Thursday is lovers' holiday…so there's that, too. We have big plans to stay home, drink wine and make heart-shaped pizza together (you can read more about that cheesy (literally) tradition here).
If you only try one recipe this week, make it the Chicken Gyros. We heart these! Yeah, preparing the homemade tzatziki sauce takes a bit of effort, but you'll have plenty leftover to repurpose as dipping sauce for Tuesday's Greek quesadillas. Two meals for the effort of one – that's amore!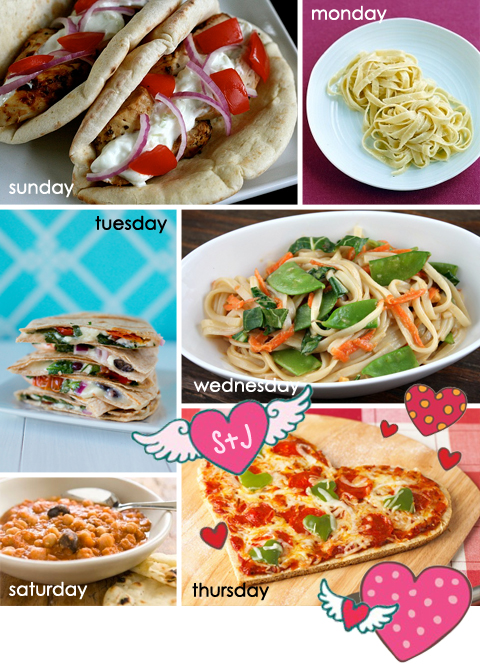 Image Sources and Recipes Linked Below
Sunday: Chicken Gyros*
Monday: Vegetarian Fettucine Alfredo w/ Garlicky Sautéed Kale & Green Salad
Tuesday: Vegetarian Greek Quesadillas
Wednesday: Vegetarian Udon Noodles w/ Asian Veggies & Peanut Sauce
Thursday: Heart-Shaped Pizza w/ Green Salad & Salted Caramel Brownies
Friday: Date Night!
Saturday: Vegetarian Slow Cooker Chickpea & Lentil Stew* w/ Pita Bread
* Some advance preparation required.
Resources:
Free Weekly Menu Planning Printables
Free Monthly Menu Planning Printable
Free Sample Menu Download
Previous Menu Plans:
January 13-19
January 20-26
February 3-9