Sunday is typically the day that I plan our menu for the week and put together a grocery shopping list. To be honest, some weeks I'm better about this than others, but I like to have a basic game plan for getting dinner on the table. Planning in advance just saves so much time and money! We usually cook dinner at home 5-6 nights a week, then go out or have leftovers on the other evenings. Lunch on most days consists of leftovers from the night before. Love me some leftovers!
I thought I'd start sharing my menu plans on the blog, partly so I can refer back to them but also because we all like getting new recipe ideas. Am I right? So here's what's cookin' at our house this week: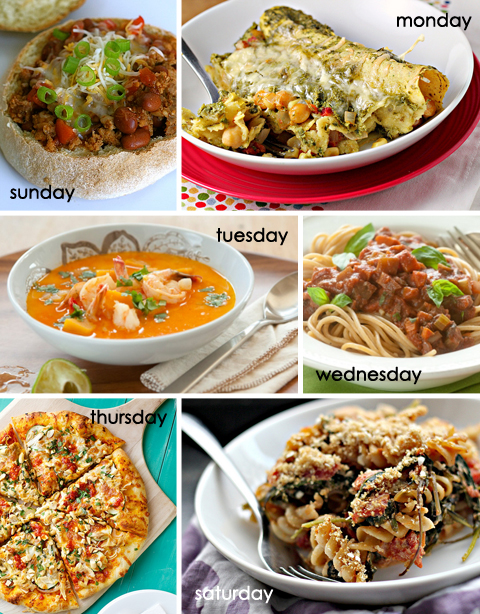 Image Sources and Recipes Linked Below
Sunday: Turkey & Sausage Chili*
Monday: Vegetarian Green Goddess Enchiladas* w/ Black Beans & Red Rice*
Tuesday: Butternut Squash & Coconut Soup w/ Shrimp
Wednesday: Vegetarian Eggplant Bolognese w/ Garlic Bread
Thursday: Thai Chicken Pizza*
Friday: Date Night!
Saturday: Vegetarian Baked Macaroni w/ Tomato Sauce & Goat Cheese
* Some advance preparation required.
Want to give menu planning a try? Here are some previous posts to help you get started:
Free Weekly Menu Planning Printables
Free Monthly Menu Planning Printable
Free Sample Menu Download