Ouch! I just completed week one of "Operation Get Fit" and every muscle in my body is begging for mercy. I've rediscovered muscles I'd forgotten I had….and somehow even managed to bruise my tailbone within the first ten minutes of bootcamp today. Dang you, Groupon, and your irresistible deal on bargain-priced fitness classes!
I'm not really sure what the impetus was for the sudden burst of motivation to get in shape (besides the impulse Groupon purchase). I feel like we were so active in Montana this summer, then returned home and quickly fell back into our sedentary ways. There aren't exactly a ton of mountains to climb here, but that's no excuse for turning into a sloth.
Of course, I decided that before I could even think about getting fit, I first needed to design a cute planner to track my progress. (At this point, would you even expect anything different from me?) That's where this craziness comes in: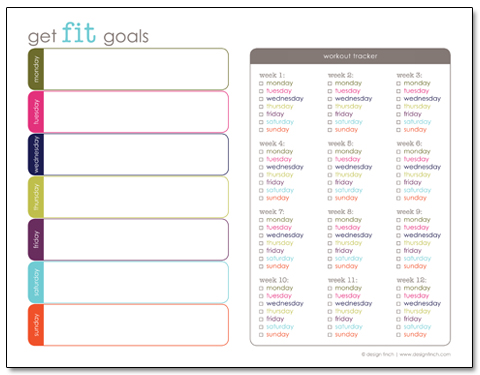 With planner in hand, I then went to town penciling in a simple workout schedule that hopefully I'll be able to stick with. My goal is to do something active at least five days per week (to keep track, I'll put a check mark in the box each day I complete a workout). At the end of the week, if I have five check marks, I'll treat myself to a Pumpkin Spice Latte at Starbucks! After twelve weeks, if I've met my goal, I plan to reward myself with a spa day!!! How's that for incentive? Here's my current fitness schedule:
Monday: Walk/Jog with the Dogs

Tuesday: Yoga

Wednesday: Walk/Jog with the Dogs

Thursday: Yoga

Friday: Walk/Jog with the Dogs

Saturday: Bootcamp

Sunday: Bike Ride
If you want to play along, you can download my free printable Get Fit planner to customize with your own fitness goals or check out some of the other handy planners I've collected below. If you have enough energy left, you can laminate or frame one and use it over and over.

Download Printables Here: 1 / 2 / 3 / 4 / 5 / 6 / 7 / 8 / 9
What's not to love about these cute planners? Well, except for the exercise part.
Next week will get easier, right? Wait…don't answer that.