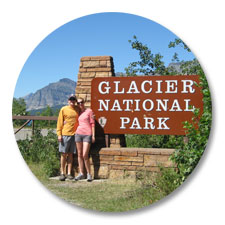 We saved the best for our last weekend in Montana – Glacier National Park!
Since we had both taken Friday off from work, we left Billings Thursday evening and drove to Missoula which is about five hours away. On the way, we stopped in Bozeman to grab dinner and discovered that the Sweet Pea Festival was going on downtown so we decided to check it out. Oddly enough, we did not see any sweet peas so I'm not quite sure how that ties in, but we did enjoy delicious gyros from a local food vendor while listening to live music in the middle of Main Street. A perfect little pit stop on our way to Missoula! We spent Friday morning poking around Missoula, then continued on to Glacier National Park.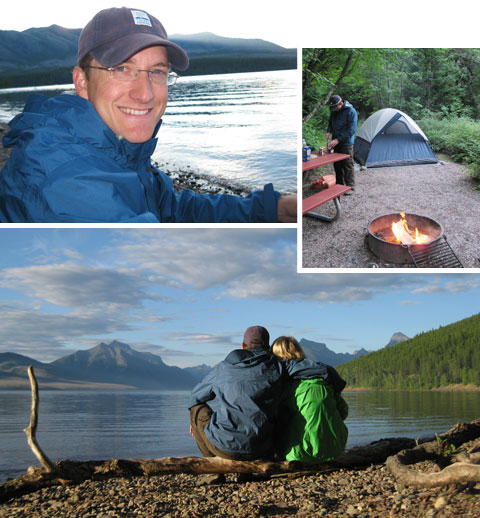 Fortunately, we arrived early enough to score a campsite in the park. I knew we did not drag that camping gear all the way from Oklahoma for nothing! We couldn't have asked for better weather – highs in the 70′s during the day and evening temps in the upper 30′s/lower 40′s. I'm convinced there is nothing more refreshing than cool mountain air!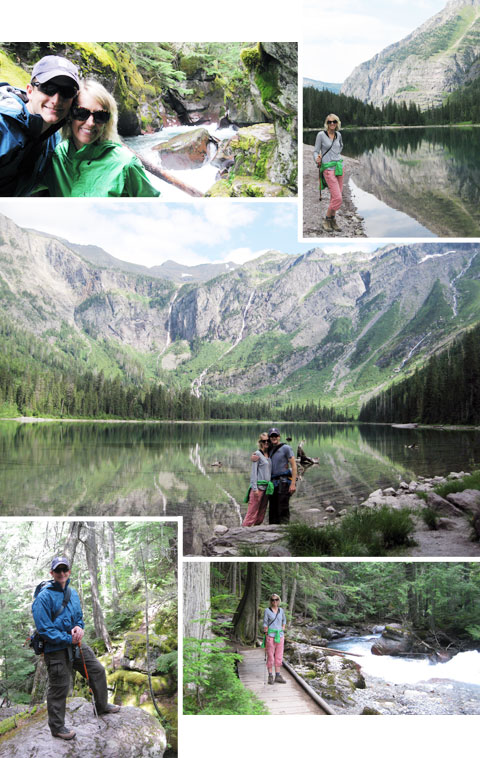 The first hike we did was up to Avalanche Lake. The trail meanders through a dense forest, along a pristine creek, and past rushing waterfalls before finally reaching the lake. It's the kind of place you'd expect trolls and fairies to live, except there was a sign at the trailhead warning that a bear was frequenting the area and, right next to that one, another flyer with the picture of a missing hiker. Talk about intimidating!
I wonder if bear spray also works on trolls?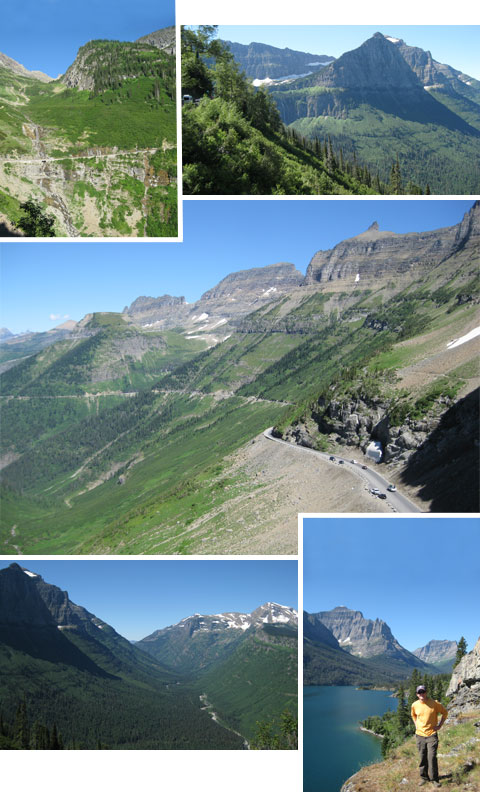 The must-see attraction in Glacier is driving the Going-to-the-Sun Road which offers incredible panoramic views of the park as it winds its way through the mountains for 50+ miles. You drive past lakes, waterfalls, glaciers, and tons of wildlife – Susie was in heaven!

The highlight of the trip, though, was an incredible 11.8 mile hike we did called Highline Loop. This trail has the reputation of being among the most scenic hikes in America and, let me tell you, it did not disappoint! If you are an avid hiker, put this one on your bucket list for sure.
We started at the Logan Pass trailhead around noon, hiked about 3.5 miles up to Haystack Pass, then stopped to eat our lunch on a rock next to a glacier. It's not every day you can say you picniced at a glacier! From there, we hiked about 4 more miles until we reached Granite Park Chalet, a rustic back country lodge built 1914-1915 that can only be reached by trail. It doesn't have electricity or running water; just a few bunk beds for weary guests. We stopped there for a little snack break before hitting the trail again. All in all, it took us 5 hours and 45 minutes to hike the entire trail, including lots of stops along the way to take pictures and watch wildlife.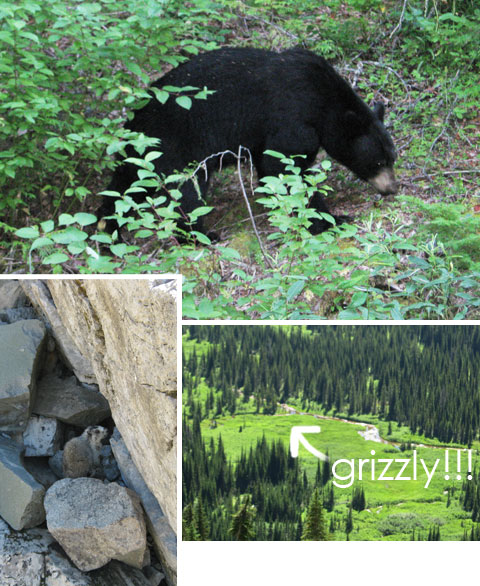 And, speaking of wildlife, we saw our fair share in Glacier. The black bear sighting was another highlight! We were driving back to our campsite right before sunset and, out of nowhere, this bear comes out of the woods looking for dinner. Thankfully, Okies didn't seem to be on her (or his?) menu that night so we were safe. She was much more interested in bugs and berries than the paparazzi who gathered to snap her photo. What is it about black bears that reminds us of our Denver-dog?
The following day on our Highline hike, we spotted a GRIZZLY BEAR through the binoculars way down in the valley below. (It's the teeny tiny light spec in the pic above – squint hard!). Oh my word, I swear it could have been Ollie running around down there in a bear suit. Identical twins. (Which is why Ollie's new middle name is "Grizz" – Oliver Wendell Pollywog Grizz Groves, aka "Little Buddy".). But, I digress….this grizz was amazing. We watched him for a long time through the binocs and were totally mesmerized (and grateful we didn't meet him face-to-face!).
So far, the animal that reminds us the most of Finchley is the marmot (although that's probably just because we've yet to see a honey badger in the flesh). We saw tons of marmots on our hikes in Glacier and Jackson Hole – let me know if you'd like me to pick one up for you as a souvenir.
Now for an official tally, the past few weeks we've spotted:

3 black bears
1 grizzly bear
hundreds of bison
1 moose
5 bighorn sheep
a dozen-ish pronghorn sheep
3 mountain goats
1 gray wolf (or maybe it was a just mangy coyote?)
too many elk, antelope, and marmots to count
Only a few days left in Montana before we head back to reality. I'm ready to get home but, at the same time, we're really going miss these weekend excursions to the mountains!