Wrapping gifts is one of my very favorite things about the holidays (in fact, I've 
mentioned before
 that one of my dream jobs is to be a professional gift wrapper in the mall during Christmas). I love searching for cute gift wrap and coordinating the ribbons and embellishments to match my holiday decor….in fact, I probably obsess over it a little too much. I wish I was one of those people that could throw a present into a gift bag with some tissue paper and call it done.


But that would be way too easy, my friends.

I tend to make simple things like wrapping gifts as difficult and time-consuming as possible. Which is why after spending a couple nights sitting on the floor in the middle of the guest bedroom surrounded by crumpled gift wrap and a tangled mess of ribbon, I've decided that my next house will have an entire workspace dedicated to wrapping presents. In fact, it will look exactly like this: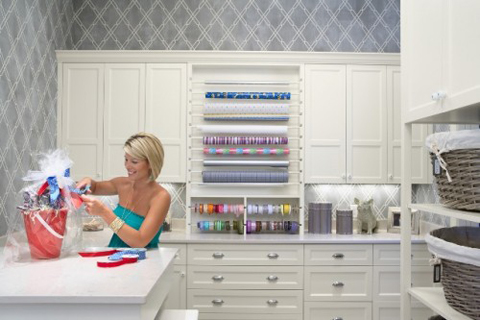 Craft/Wrapping/Laundry Room
And I will be smiling just like that lady because it will be organized bliss in there, I tell you! I bet her bows always turn out perfectly and she never even runs out of tape or shirt boxes on Christmas Eve.

However, until I'm able to have an entire present-wrapping workshop like Santa, I will need to find creative ways to maximize the space I have to its fullest potential. This organizational eye candy has me excited to whip my gift wrap storage into shape after the holidays: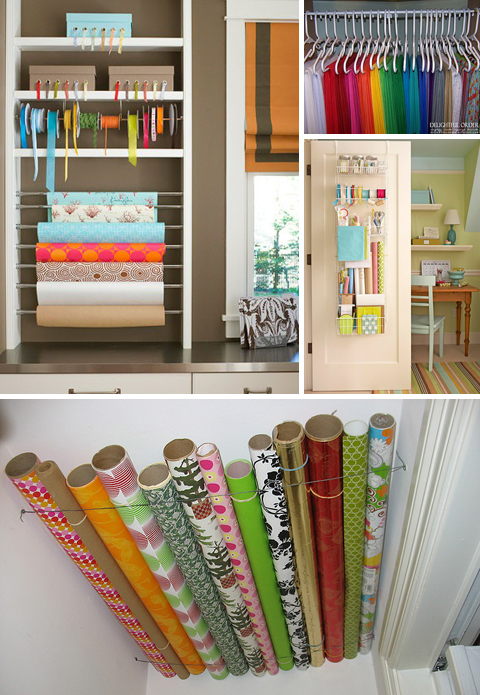 Clockwise from top left:
Gift Wrap and Ribbon Shelves
,
Tissue Paper Hangers
,
DOORganized Gift Wrap
,
Overhead Wrapping Paper Storage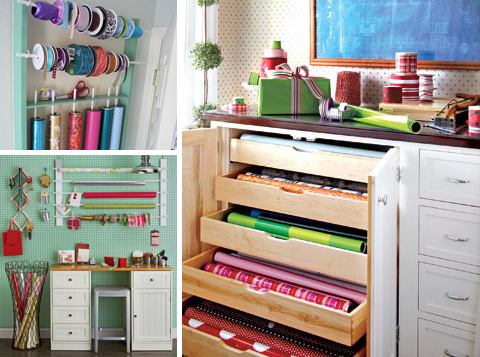 Clockwise from top left: DIY Behind-the-Door Gift Wrap Organizer,
Gift Wrap Drawers, Wrapping Station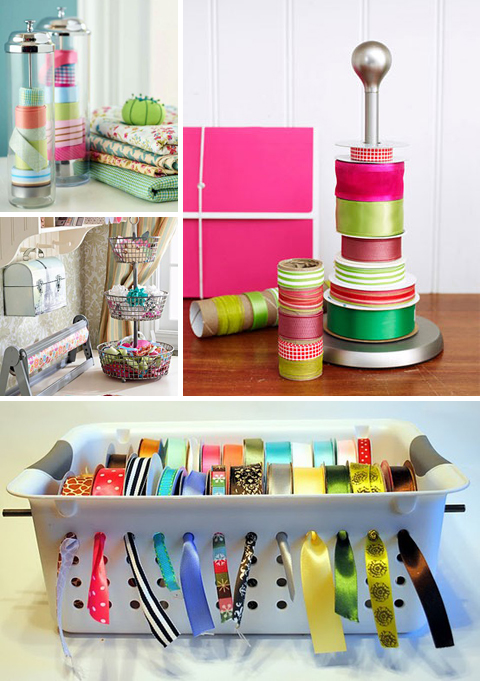 Clockwise from top left: Ribbon in Straw Dispensers,
Ribbon on a Paper Towel Holder, Ribbon Basket, Bows and Tags in a Fruit Basket
Regardless of whether you are obsessive wrapper like me or prefer to keep things simple with gift bags (or, God forbid, plastic shopping sacks), wouldn't it be so nice to have a convenient, organized place to assemble presents? Do you have any secrets for keeping your gift wrap supplies in check?