With only 13 shopping days left until Christmas, I thought it might be helpful to share some last-minute gift ideas with those over-worked elves who are still searching for the perfect presents for the good girls and boys on their lists (and, also because my Mom keeps asking). So, hint hint, little elves….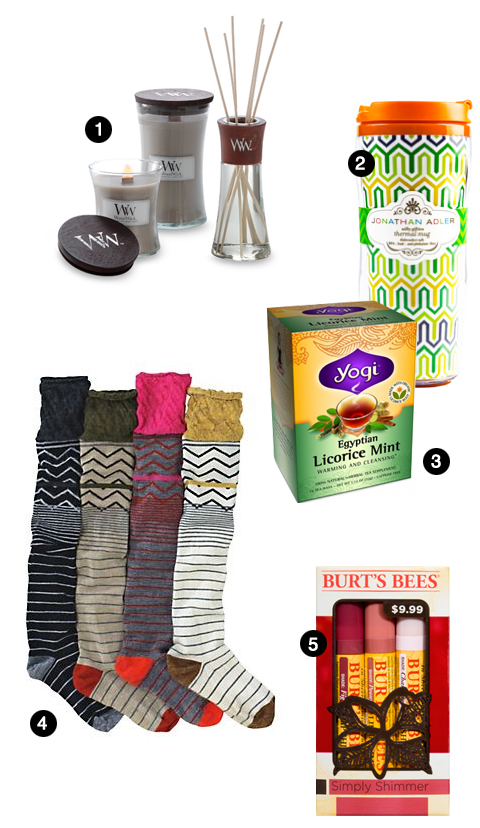 1. WoodWick Candles – $10-$20
Not only do these candles smell amazing, but they also crackle
just like a fireplace. I want one for every room in the house!
2. Jonathan Adler Thermal Mug – $15
I pretty much adore anything designed by Jonathan Adler,
and these mugs are no exception.
3. Yogi Egyptian Licorice Mint Tea – $5
Three words: Best. Tea. Ever.
Feeling stressed, tired, sick? One cup of this stuff will leave you feeling refreshed
and rejuvenated….it's truly magical! I'm actually enjoying a cup as I type this.
4. SmartWool Frilly Boot Socks – $24
I pinned these socks on Pinterest a long time ago
and keep hoping they will go on sale soon….because I need all four pairs!
5. Burt's Bees Lip Shimmer – $6
It is no secret that Burt and his bees make the best lip gloss ever!
I have a tube in my purse, car, desk drawer, and coat pocket at all times.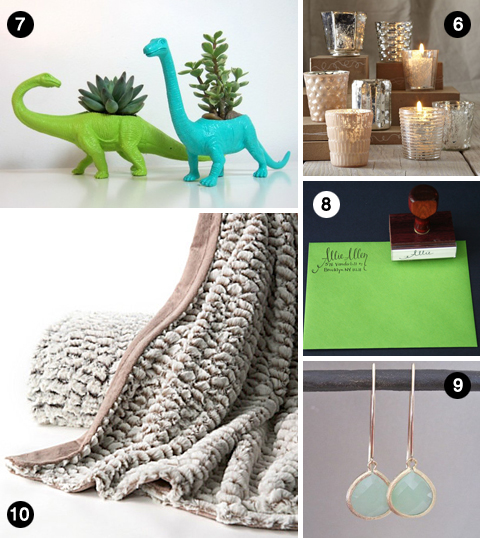 6. Mercury Votive Holders – $5 each
I have a slight obsession with Mercury glass.
7. Dinosaur Planters – $14-$18
I also have a thing for dinosaurs…and these guys just make me laugh!
8. Custom Calligraphy Address Stamp – $65
I love that these return address stamps are individually hand-lettered
in custom calligraphy, not computer-generated fonts.
9. Fluorite Faceted Teadrop Earrings – $46
FACT: A girl can never have too many earrings!
10. Textured Cuddle Throw – $39
Nana gave me this throw for Christmas (or maybe my birthday?)
a couple years ago and it is the best, softest, coziest blanket of all time.
It's the secret ingredient to napping perfection!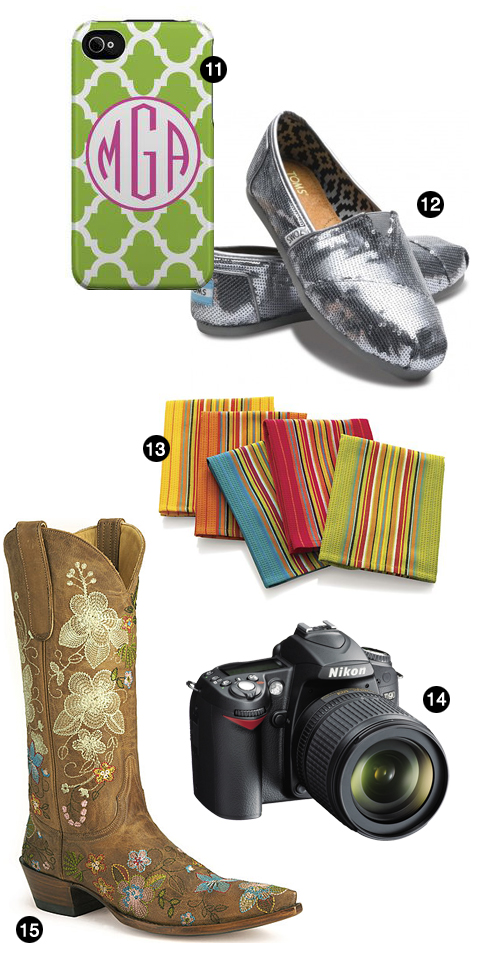 11. Monogrammed Phone Case – $50
Guaranteed to add some "style while you dial".
These cute cases are available in lots of different colors and patterns.
12. Toms Pewter Sequin Shoes – $59
These are cuter in person than they are on the website. I first saw them
for sale in Whole Foods and had to restrain myself from taking off my shoes
and trying on a pair right there in the middle of the grocery store.
The copper color is my fave, but can't seem to find a picture of those.
13. Salsa Dos Dishtowels – $4 each
These are the best dishtowels. The set we received as a wedding gift
is just now beginning to wear out after 6.5 years of daily use.
14. Nikon D90 Camera – $900
I'd love to get a fancy SLR camera and learn how to properly use it.
I've read good reviews about this one, in particular.
15. Old Gringo Western Boots – $430
If you can justify the price, these handmade boots are simply lovely.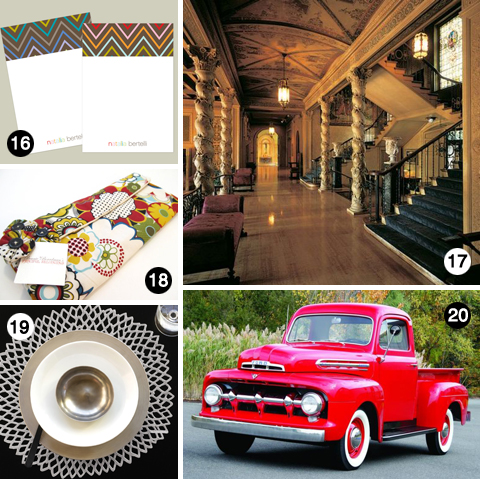 16. Erin Condren Personalized Note Pads – $18
Erin Condren stationery is all the rage right now!
17. Philbrook Museum of Art Membership – $50
Can't afford a real Picasso? Think again!
Museum memberships make entertaining, clutter-free gifts.
18. Knitting Needle Organizer – $37
This would be a great gift for the knitters on your list.
19. Dahlia Placemats – $8 each
A set of these placemats would be perfect for someone who loves to entertain.
20. Classic Ford F1 Pickup
This is my dream car – a restored 1950's model Ford F1 pickup in cherry red
with whitewalls. I'm sure Santa is packing it into his sleigh as we speak!
How 'bout you – what's on your wish list this year?