I hope you are having a relaxing Labor Day weekend! We are enjoying some quality time together before Jason starts back to law school on Tuesday. Yesterday we had a cute visitor at our house! Zoe, my friend Amanda's little Yorkie, spent the day with us while her humans went to Norman for the OU football game. Despite being only a fraction of Denny and Ollie's size, Zoe plays right alongside our big, wild dogs. Here are some pics I took yesterday of our comical menagerie of pets: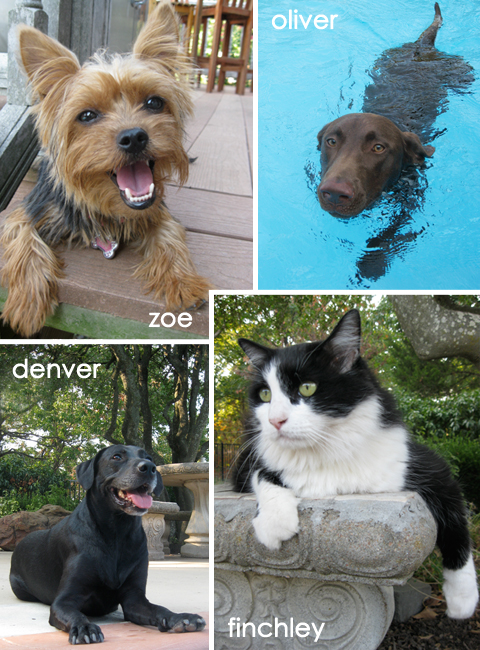 We were happy to return the dog sitting favor as Amanda and Alex often house sit for us when we go out of town. (And I can assure you that we get the bettter end of that deal!)
A while ago I put together a handy document with pet care instructions for our dogs and cat that I keep on my computer so I don't have to reinvent the wheel every time we have a pet sitter. It really simplifies the process of getting everything organized before we travel. If you have fur babies, I suggest doing the same thing. Here are some free templates you can download to get started: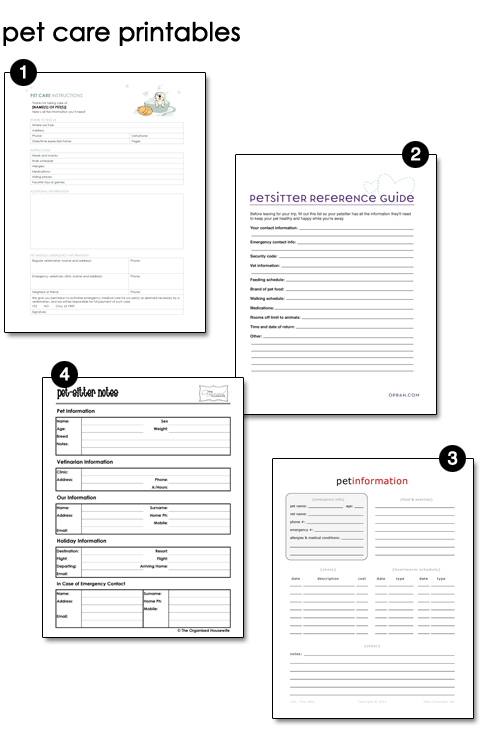 Download Printables Here: 1 / 2 / 3 / 4
Some of the things that I find helpful to include are:
Feeding instructions (time, amount, special treats)
Play time (favorite toys, exercise routine, hiding places)
Routines (daytime, nighttime)
Pet supplies (location of leashes, food containers, pet beds)
Medical information (medications, health concerns, authorization for emergency care)
Contact information (travel itinerary, veterinarian, close friend or relative)
I'm sure this may sound really over-the-top to some of you, but those who have pets know they are like members of the family! I miss our fur babies like crazy when we are away from them for any length of time, but leaving organized instructions gives me peace of mind that they are being well cared for while we are off having fun.