My parents built a beautiful new home in San Antonio a few years ago and have done a fabulous job decorating it. Mom is extremely creative and every time we visit I love walking through the house admiring the new things she has done since we were last there. I get most of my good design ideas from her!
There is one room, however, that Mom has never been happy with – the upstairs living area. The layout is a challenge because it's a long, narrow space that needs to serve several functions including TV-watching, reading, exercising, and a place to spread out and work on projects. Mom sold most of the family room furniture in a recent garage sale so she could redecorate and requested my help developing a plan for the space. Fortunately, she provided a few guidelines and photos for inspiration.
Mom's Family Room Wish List:

Add small pops of color in throw pillows and art work.
Mount flat screen TV on the wall.
Incorporate textures that will add visual interest.
Utilize the existing game table, chairs and floor lamp, if possible.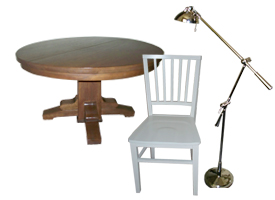 Since we are both visual thinkers, I decided to compile a few different mood boards to get the creative juices flowing. The new elements we add to the space need to complement the existing furniture in the room, which should be relatively easy since they are such classic, neutral pieces.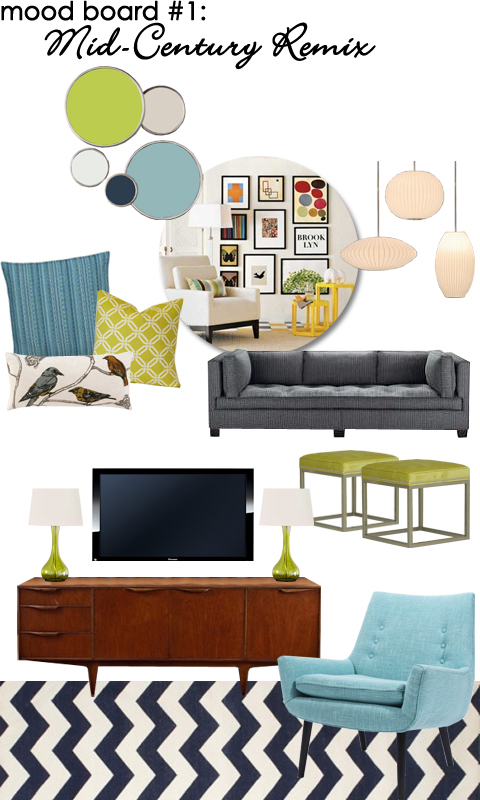 clockwise from top: Custom Color Palette, Framed Graphic Prints,
Nelson Bubble Lamps, Ambre Sofa, Duncan Cube Ottoman, Mrs. Godfrey Chair,
Zig Zag Jaipuri Rug, Mid-Century Modern Credenza, Vidrio Glass Table Lamp,
Chinoiserie Long Pillow, Lime Trellis Pillow, Maddox Teal Pillow
The first proposal blends Mid-Century Modern finds with a bright, airy color palette to keep the space feeling fresh and contemporary. Maybe we can score a good deal on a vintage-looking credenza if we keep our eyes peeled on Craigslist. Mom already has several Pottery Barn frames tucked away in a closet that could be filled with a variety of colorful, graphic prints and hung in a cluster like the inspiration photo above.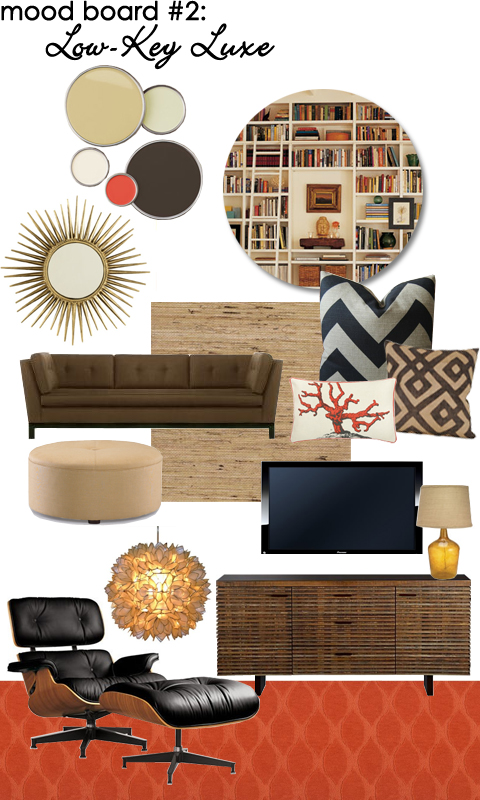 clockwise from top: Rich Elegance Color Palette, Bookshelves, Chevron Pillow, Kuba Cloth Pillow, Corallum Coral Pillow, Oatmeal Grasscloth Wallpaper,
Melesse Table Lamp, Paloma Sideboard, All Square Flor Tile Rug,
Eames Lounge Chair, Capiz Shell Floral Pendant Light, Austin Ottoman,
Campbell Sofa, Sunburst Mirror
A rich, earthy color palette gives warmth to the space in this design option. Grasscloth wallpaper would add texture and visual interest to the focal wall. Built-in bookshelves would provide storage and give the room a cozy, lived-in feel. I can just imagine kicking back with a cocktail and a good book in that sweet Eames lounge chair!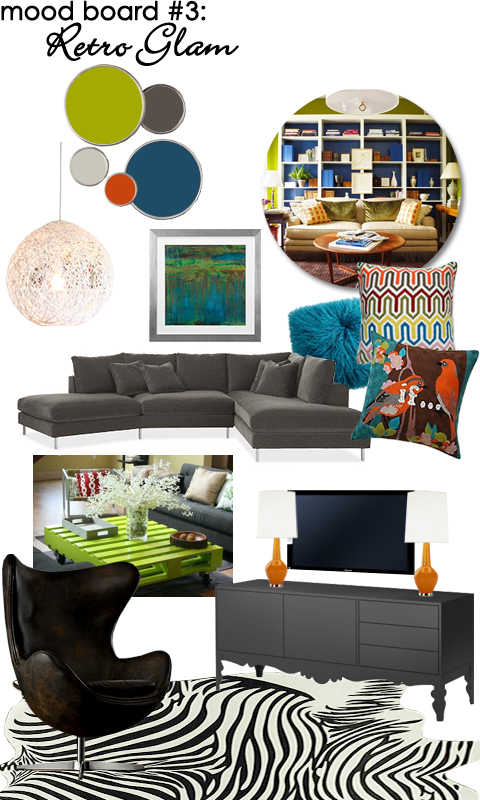 clockwise from top: Custom Color Palette, Colorful Bookshelves,
Teal Mongolian Wool Pillow, Bargello Chevron Pillow, If…Then Pillow,
Capri Bottle Lamp, Trollsta Sideboard, Zebra Hide Rug, DIY Pallet Coffee Table,
Copenhagen Chair, Hayes Sofa, Abstract Painting, DIY Yarn Pendant
Honestly, I just threw this mood board in as a wild card, but I think the colors are so fun for a casual family room. The zebra rug and bright accessories pack a powerful punch! I love the color contrast in the inspiration photo where the back of the bookshelves are painted bright blue and the walls are lime green. The do-it-yourself wood pallet coffee table and yarn pendant lamp are not only easy on the wallet, but they would be great conversation pieces, too.
So, what do you think? Which option would you choose?