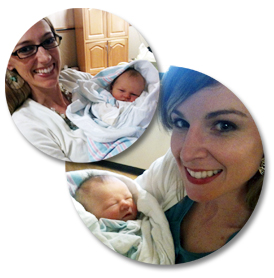 One of our friends from work recently had a precious baby boy and we wanted to do something special for her, so Amanda and I teamed up to make dinner for the proud new parents. We were inspired by an article about putting together a "Welcome to the World" meal where each dish is given a clever, baby-themed name. We had a lot of fun concocting this menu for our sweet friend:
We also created a custom wine label to go with the "Special Delivery" theme and personalized it with some fun details, such as the baby's birth weight and parents' last name.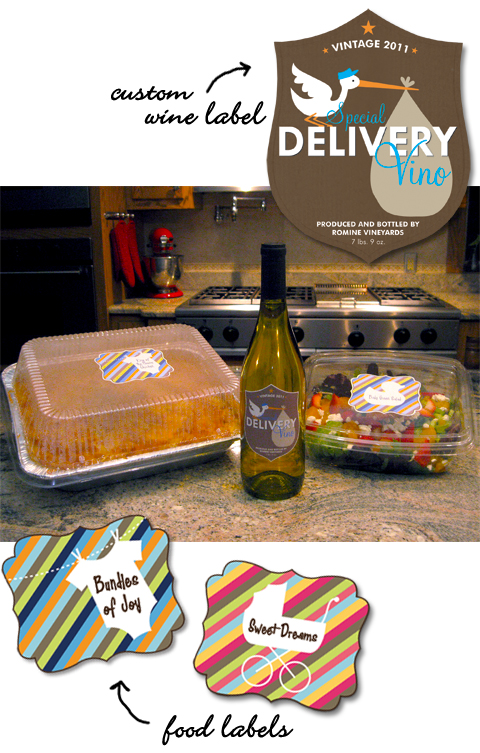 I designed these little baby labels (included below as a free download) that we printed with the name of each dish for the food containers. It's also a good idea to include reheating instructions or any special directions on the label.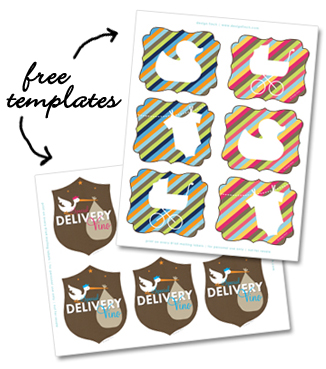 To personalize these labels for your own cooking or craft project:
First, download the wine label and food label PDF templates and save them to your computer. You will need Adobe Acrobat Reader software to open the PDF. (You probably already have it on your computer, but if not you can download the free software here.)
Simply type whatever you want in the editable text fields.
Print the labels on Avery 8164 mailing labels (size 3 1/3″ x 4″). If you don't have adhesive mailing labels, you can print on regular paper and attach the labels to the containers with double-sided tape.
These are some other helpful resources for showering new parents with meals:
It's such a joy for me when I'm able to bless new parents with a hot, tasty meal. (Of course, my ulterior motive is getting to squeeze the new baby!) I'm always looking for new recipe ideas and would love to hear about meals you've gifted or received…please leave 'em in the comments!