With two knitting posts back-to-back, it may seem like I've just been knitting up a storm. Oh, how I wish that were the case! While I haven't had time to cast-on many new projects lately, I finally managed to squeeze in the Loops 202 class I'd been looking forward to since completing the first class last fall. And I'm happy to report that cabling and using double pointed needles isn't as hard as it looks!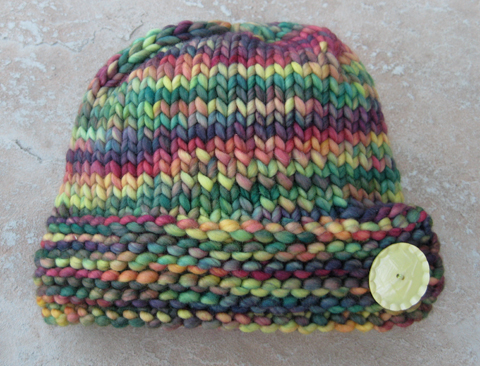 Our first class project was the Twinkle, Twinkle Little Beanie. The pattern calls for one skein of Twinkle Soft Chunky yarn (the same yarn I used for the Snowmageddon scarf), but because my local yarn store was sold out of Twinkle I used Malabrigo Rasta (in the Arco Iris color) instead. Malabrigo is a delicious yarn to knit with because of its soft, squishy texture, however the yellow vintage button on the flap is my favorite detail of this hat. Sadly, its a little too snug for my noggin….but I guess that's a good excuse to give this one away and make another one for myself!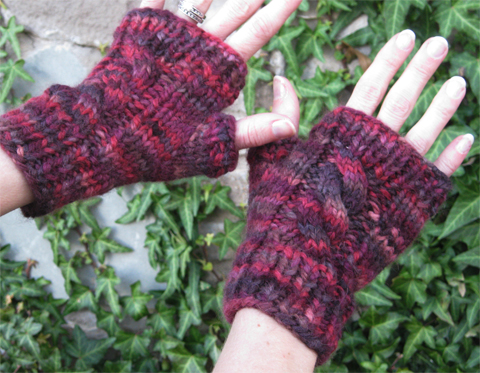 Next, we knitted a pair of Tangle Fingerless Mittens to learn the cabling technique. I chose hand-dyed Plymouth Baby Alpaca Grande yarn for this project, although in hindsight I think a solid color would make the cable more visible. Anyway, I must say that while cabling is fun, I am not in love with this pattern. It required way too much concentration for my liking plus, when its all said and done, you are still left with cold fingers. I've never really understood the purpose of fingerless mittens.
Now that the class if finished and I'm feeling a little more confident in my knitting abilities, I plan to give felting a whirl. This weekend I purchased the supplies to make a pair of felted slippers and am anxious to get started!