We recently welcomed a furry new member into our family….a 5-month-old(-ish) Chocolate Lab puppy!  My brother rescued this cutie after it was dumped on the side of a country road and fell into a deep hole where it was trapped. (Luckily Trent was working nearby and heard him barking!) Since my brother and sister-in-law already have four dogs of their own, they needed to find a forever home for this little guy. At first I was extremely hesitant to take on the responsibility of another dog, but as soon as we met him we knew it was meant to be!
It took a couple days of getting to know him before we could choose a name that fit his personality. Some of the names we tried out included: Tex, Behr, Cooper, Ryder, Fletch, and Drake….but, alas, he is an "Oliver". Here are some pics of the little nugget on his first visit to the park over the weekend.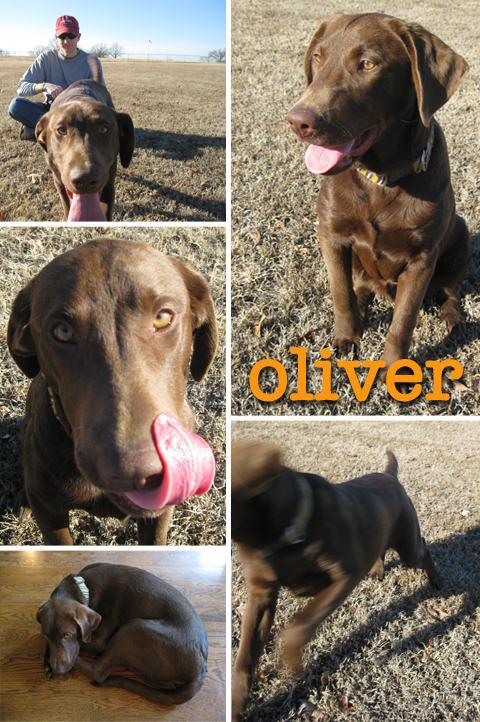 Ollie has been part of our pack for a little over a week now and this is what we know about him so far:
He smells like gingerbread cookies.
His tongue is ALWAYS hanging out.
He is incredibly clumsy and springs around the house like a Slinky.
He loves going outside to eat snow, but prefers to do his business indoors where it's warm.
He scarfs his kibbles (as opposed to his big sister Denver who eats one. kibble. at. a. time.).
When no one is looking, he takes every single pillow and cushion off the sofa to make a giant nest on the floor.
Yes, apparently Oliver has some strong opinions about decorating. Fortunately for him, there is more stylish swag available for dogs right now than ever before. Here are some of the items currently on Ollie's wish list:

1. Mustache Dog Toy 2. Hand-Embroidered Dog Collar 3. Pet Camper
4. Bedside Table/Dog House 5. Giraffe Print Dog Pillow
6. Hand-Stamped Pet ID Tag 7. Mod Dog Prints 8. Dog Bowl Tray
9. Dog Boots 10. Barkitecture 11. Lattice Dog Bed Duvet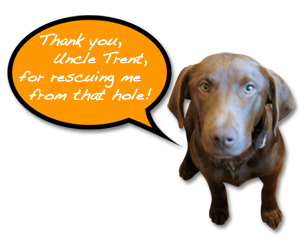 Considering he was a free dog, Oliver sure doesn't have cheap taste! But who am I to judge another design hound? Especially one that was rescued from a hole in the ground Baby Jessica-style.
We already love you to pieces, Ollie-dog!