Well, now that the leftovers are in the fridge and the china is washed and safely stowed away, I can finally sit down to recap our Thanksgiving. I hosted the big meal for the first time this year and, thankfully, it went pretty smoothly. I always imagined hosting Thanksgiving to be a really stressful and overwhelming endeavor, but I learned a few tricks along the way that actually made it a fairly simple task. In fact, I really enjoyed the process of decorating and cooking this year!
The key for me was to begin preparing several days in advance by breaking the tasks down into manageable pieces. This was my timeline:
Week Before: create menu, make shopping list, order smoked turkey, call guests to confirm time
Weekend Before: go grocery shopping, wash china and serving pieces, polish sterling silver flatware, press tablecloth and napkins, set table and buffet and cover everything with a sheet (to keep the clean dishes dust-free until Turkey Day!)
2-3 Days Before: prepare pumpkin dip appetizer, cranberry chutney, mashed sweet potatoes, and desserts
1 Day Before: prepare stuffing, brew iced tea, arrange fresh flowers for centerpiece
Thanksgiving Day: watch Macy's parade, cook turkey, heat up side dishes and rolls, prepare gravy and butternut squash risotto, brew coffee, simmer apple cider in the crockpot
Another thing I found really helpful was to decide in advance which serving pieces and utensils would be used for which foods. Then I wrote the name of the food on an index card and put it inside the corresponding dish to eliminate the guesswork and the frantic, last-minute search for the gravy boat.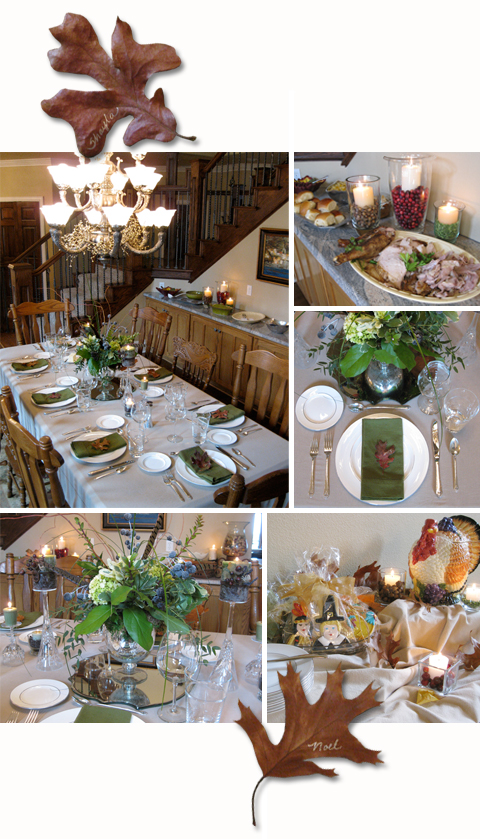 Setting the table was my favorite part, of course. Inspired by some leaves, acorns, and seed pods that Jason and I found on a recent hike, I decided to go with a green, brown, and silver color scheme. I turned the leaves into placecards by simply writing each guest's name on one with a silver paint pen. The acorns added visual interest to clear vases holding candles (other vases were filled with fresh cranberries, dried green peas, and coffee beans). I misted the seed pods with silver spray paint and used them in the centerpiece I created from some store-bought greenery, hydrangeas, feathers, willow branches, and moss. I really liked the contrast between the rustic, natural elements and the more elegant look of our wedding china paired with my great-grandmother's sterling silver.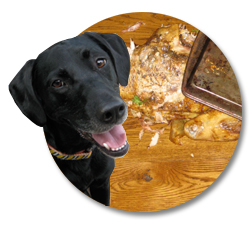 Although the table looked lovely and the food was delicious, I would be remiss in not mentioning the great Thanksgiving Day catastrophe of 2010. After lunch, we went to visit my mother-in-law in the hospital and accidentally left some food out on the kitchen counter. When we returned home a while later, we found the turkey carcass in the middle of the floor….and one very happy doggy licking her chops!
Perhaps I should take that as a compliment to the chef?