Y'all, check it out!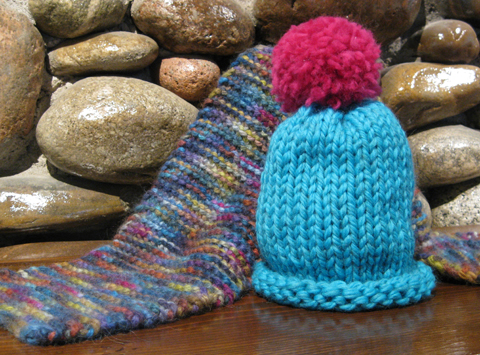 I finally learned to knit!!! Despite several failed attempts at teaching myself, I decided to give it one more shot and signed up for lessons at Loops, a fabulous yarn store here in Tulsa. My knitting guru, Gina Y., was incredibly patient and ENTHUSIASTIC as she taught us to cast on, knit, purl, increase and decrease stitches. After just 3 short classes, I was able to knit the scarf and hat pictured above. Now I'm totally obsessed and all I can think about is what my next project will be.

1. Hair Raising Headband 2. French Press Felted Slippers 3. Infinity Scarf
4. Chaussons Mignons 5. Organic Coffee Sleeve 6. Laurel Love Cocoon
7. Berry Baby Hat 8. Orangie 9. Cinder Scarf
Ahhh…so much yarn, so little time! There is certainly no shortage of inspiration thanks to Ravelry, which is where I found and bookmarked these delicious projects. However, I definitely need to practice what I learned before I tackle more challenging patterns, so I'm thinking I'll make another simple scarf first. Then, in January I'm hoping to take the Loops 202 class to learn pattern-reading, cabling, and knitting on double-pointed needles. Watch out…before you know it, I'll be churning out entire sweaters like nobody's business!