Sorry to leave you hanging for a few weeks; I'm sure you've been in complete suspense awaiting the next Sanity Saver! If there has ever been a month that challenged my sanity, this October has been it for sure. So, without further ado….
My second sanity-saving tip is creating a monthly menu rotation. I've written about my weekly menu plans in the past, so this isn't a totally new concept. However, I recently discovered that I can recycle a month's worth of favorite menus to save time in the meal planning department. Start out by biting off a week at a time, then at the end of the month transfer the menu you planned for each week onto a calendar to create a schedule for the next month. Planning ahead is simplified by capturing the decisions you've already made and making a master shopping list for each week's meals. You can recycle this rotating menu each season, or for as long as your family tolerates it.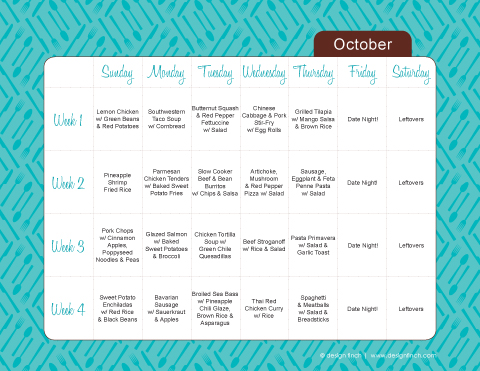 Download my free Monthly Menu Rotation template to personalize with your family's favorite meals. If you need menu suggestions, these are some great places to start:
One more tip….always have a few frozen pizzas on hand for those hectic nights when cooking a real meal is just not in the cards. Actually, that is probably the real sanity-saver here!
There are still more sanity-saving tips to come but, in the meantime, please leave a link to your favorite recipe in the comments.