Any graphic designer will tell you that its incredibly difficult to design marketing materials for their own business. It's easy to get so busy creating gorgeous collateral for clients that they don't have the time or energy left to promote themselves. I have found this to be true for my freelance business too. Combine that with a case of hardcore perfectionism and I have the world's worst client: ME!
Case in point: business cards. I have been completely out of them for longer than I care to admit! I know. What kind of graphic designer doesn't have business cards?
Fortunately, that just changed; my new moo minicards arrived this week! Have you heard of moo? They are a great online printing company that allows you to print up to 100 different designs in each run. Best of all, it's really cost-effective! For example, 100 double-sided minicards cost around $20. Standard business cards will only set you back about $45 for 100. You can feel good knowing they print on high-quality, sustainably-sourced paper.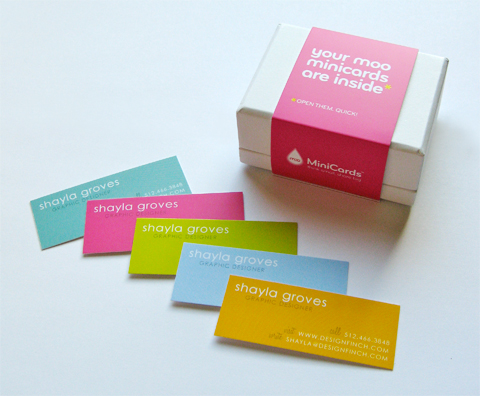 I'm really happy to have business cards again. And they happen to be pretty darn cute, if I say so myself! Needing business cards of your own? Let me know, I'd love to custom design something for you.