I know I'm not the only one who enjoys getting real mail. What's more fun than opening the mailbox to find a handwritten card or letter poking out from under a pile of boring bills?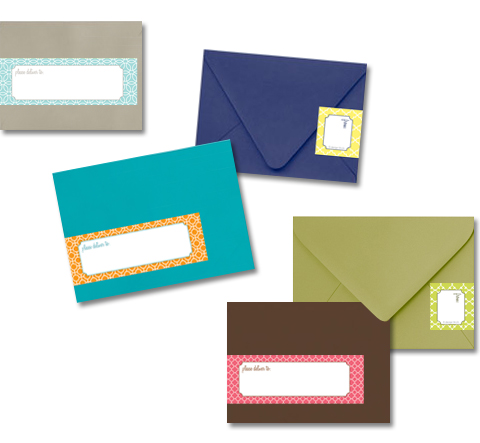 This week I was designing custom address labels for a client's wedding invitations and was having so much fun that I felt inspired to create another set of wrap-around mailing labels for myself in colorful, geometric patterns. And where's the joy in making something if you don't share it, right? So here you go, my friends….a FREE and FABULOUS address label template to add a little spice to your own correspondence. Think of how happy you'll make someone when they find a sweet note from you in the mailbox!
The labels are formatted to fit size A2, A6, and A7 envelopes. Here is what you need to know to print these babies:
First, download the PDF file and save it to your computer. You will need Adobe Acrobat Reader software to open the PDF. (You probably already have it on your computer, but if not you can download the free software here.)
Simply type the mailing and return addresses in the editable text fields.
Print the labels and trim on the crop marks. If you don't have adhesive paper, you can print on regular paper and attach the labels to the envelopes with a glue stick.
Sending a thoughtful note is almost as fun as receiving one, so I challenge you to spread a little sunshine this weekend by writing a quick letter to someone special. Hey, the label is already done for you!