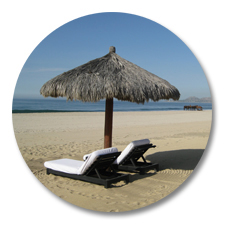 So, I haven't been this relaxed in a LONG time! We just returned from Los Cabos, Mexico, where we spent the last few days on the beach living the good life. This was our first visit to Mexico's Baja Peninsula and we chose to stay in the quaint town of San Jose del Cabo at the gorgeous Cabo Azul Resort. The entire trip exceeded our expectations and we're eager to return to paradise the next chance we get.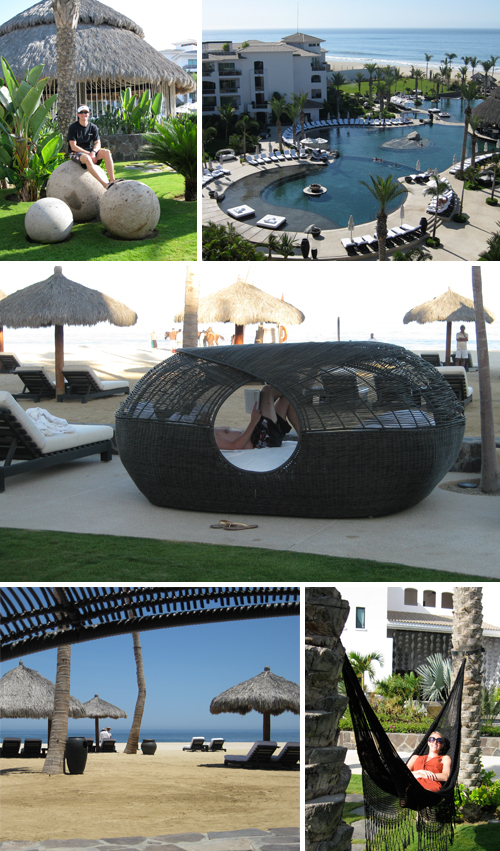 We couldn't have been more pleased with the resort. The property was immaculate and the 360º views of the beach, mountains, and desert were absolutely stunning. Our favorite spot, without a doubt, was inside the bamboo "nest" overlooking the ocean where I finished 3 books between siestas. It was heavenly!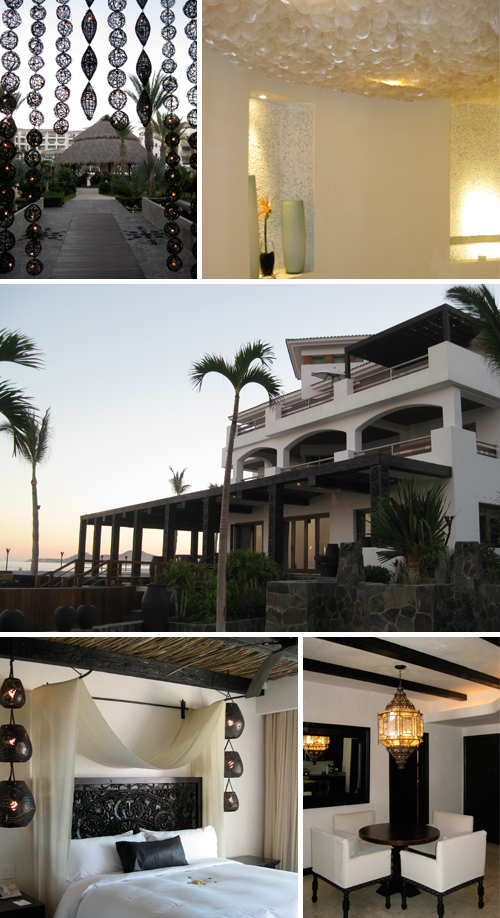 The breezy, romantic decor throughout the resort and spa is the work of interior designer Dodd Mitchell. (Upon visiting his website after returning home, I learned his design portfolio also includes Hotel Valencia where we stayed on our wedding night…so, apparently we're subconsciously drawn to his style!)
It's obvious that the designer put a lot of thought into every detail at Cabo Azul – from the thread count of the bed linens, to the luxurious robes in the spa, to the illuminated sculptural elements scattered throughout the public and private spaces of the resort. The result is a sophisticated fusion of color, texture, and lighting (representing earth, wind, and fire) which evokes a sense of harmony. Mitchell is a master at turning spaces into sensory experiences!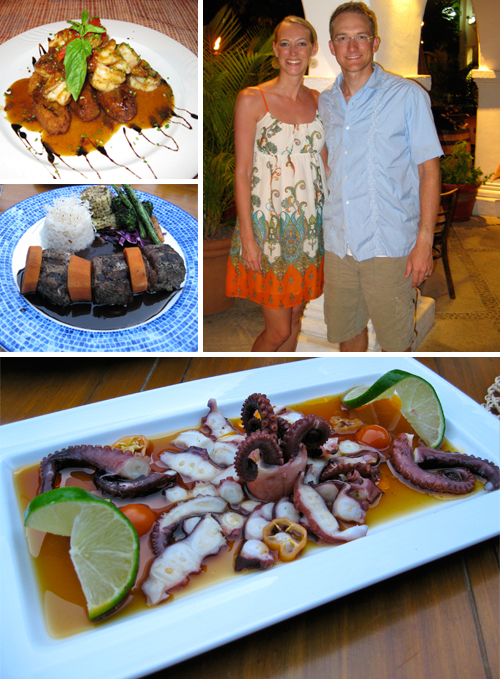 Our taste buds were not disappointed by the Baja either! We cooked breakfast and lunch in our villa, then walked the short distance into San Jose del Cabo for dinner. The most memorable meals were at Habanero's and Mesón del Angel where we dined on amazingly fresh seafood that was almost too pretty to eat.
So, how about a recipe as a little souvenir for those still reading?! At Mesón del Angel, our new buddy Alberto shared his signature Blueberry Mojito recipe with us. His refreshing version calls for several sprigs of fresh basil, about 1/4 cup of frozen blueberries, juice from 1 lemon, 2 tbsp raw sugar, ice, 6 oz. of vodka, and sparkling water. You'll also need a cocktail shaker and a muddler.
Mash together the basil, blueberries, lemon juice, and sugar until you work up a nice sweat (see Alberto above). Then, add the mixture to a cocktail shaker with ice and vodka. Shake well and serve the mojito in a highball glass, topped off with sparkling water.
Finally – close your eyes, sip slowly, and dream of paradise!