Let me begin by saying I have nothing against gray. It's quite a lovely color. I'm a big fan, in fact. But the gray tile in our entry area was just not working for me. It was as if you were greeted by 1989 upon entering the front door. We've actually intended to replace it since the day we purchased our home almost 4 years ago, but other projects have taken precedence. If you're a homeowner, you know how that goes.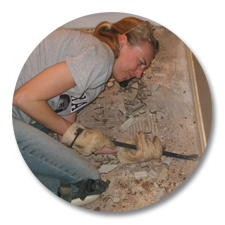 Over the past few months we visited a long list of flooring stores and felt generally disgusted by all the horrendous choices out there. Fortunately, we found a handful of options we liked well enough to bring home samples and then narrowed them down to our top two favorites. Ultimately, we chose Marazzi's Imperial Slate in black which is actually a glazed ceramic tile that closely resembles natural stone.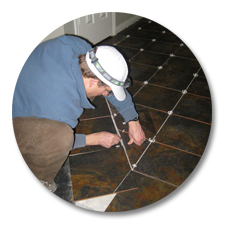 We were dreading pulling up the old tile, but it turned out to be a great stress release. Measuring, cutting and laying the new tile was another story! I was really wishing I'd paid more attention in high school geometry class; it finally would have come in useful. Thankfully we don't lay tile for a living because it was back-breaking work! The finished product was so worth it, though. Check it out: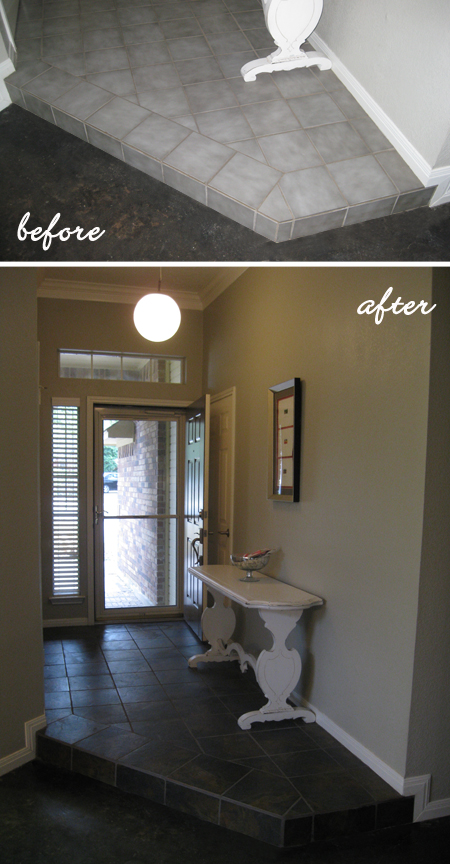 Now that the dust has settled (literally), I'm really pleased with the results. The color of the tile blends well with the adjacent black stained concrete floors, which unifies the space and makes it appear larger. I think the darker color makes the entry area feel more grounded, too. So, goodbye gray! The new tile is here to stay.