It's February and love is in the air! In my house that means it's time to break out the construction paper and doilies. We have a rule that store-bought cards and fancy gifts are not allowed on Valentine's Day. Instead, our tradition includes exchanging homemade valentines and baking heart-shaped pizzas together.
It's the stuff romance novels are made of.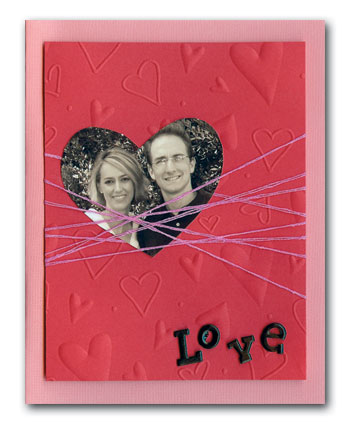 This is one of the many cards I've made for my sweetie over the past 12 years. It was inspired by some hot pink string I already had on hand. If you'd like to whip one up for your Valentine, these are the supplies you will need:
Heavy-weight paper folded into a card (or purchase some pre-made blank cards)
Decorative or textured card stock for the background (mine was embossed with hearts)
String or embroidery floss in a pretty color
A photograph cut into a heart shape
Stickers or scrapbooking letters (mine were the brad kind)
Double-sided tape
Follow these easy steps to create your own version of my "Heartstrings" card:
Cut the decorative paper slightly smaller than your card.
Wrap the string around the decorative card stock, securing the string with double-sided tape on the back side.
Slip your photo between the strings and secure the back with double-sided tape.
Attach stickers or scrapbooking letters to spell out your message.
Adhere the decorative card stock to the actual card.
Finally, write an ooey-gooey note inside.
Now that you're feeling really inspired, here are some other crafty Valentine's Day ideas from around the interweb.
Top: Rachel Johnson's Matchbox Valentines, Bottom: Martha Stewart's
Heart Seals and Hand-stitched Valentine
Leave it to Martha to come up with some adorable cards. Visit her card-making center for more eye-candy! You'll come away wanting to hug her and strangle her at the same time (or maybe that's just me?).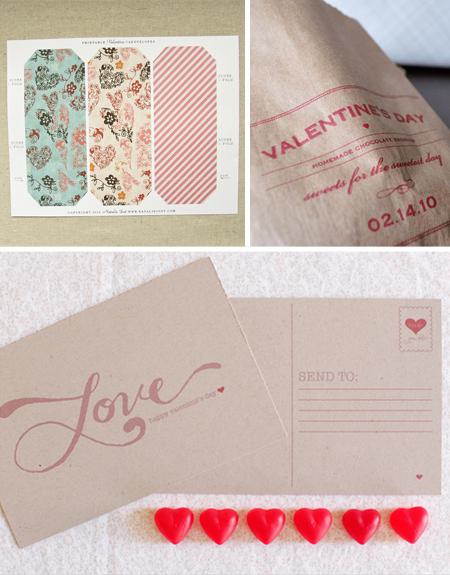 Clockwise from top: Natalie Jost's Printable Cardvelopes, Twig & Thistle's
DIY Brownie Bags, The Wedding Chicks' Printable Postcard
If you're running short on time or just can't muster the creativity to make your own, the talented designers above have already done the work for you. Visit the links to download free templates for these projects. All you need is a printer and some paper.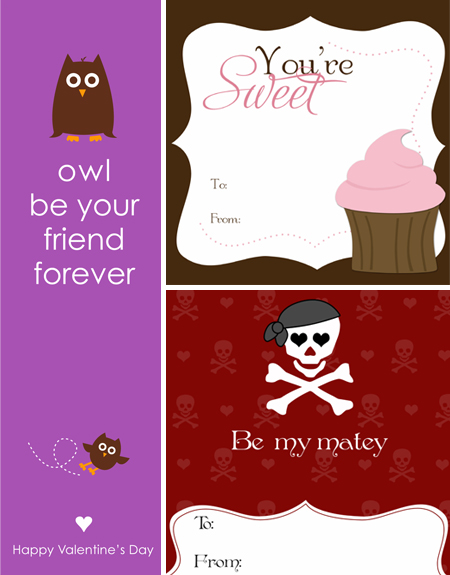 Left: Living Locurto's Valentine Bookmarks, Right: Simply Handmade's
Printable Valentines
How cute are these for kids? Skip the cheesy ones at the grocery store and download these clever cards for FREE right here.
Now you have absolutely no excuse for avoiding Cupid this year!