When my friends started having babies I decided it was time to take up knitting as a hobby. Visions of handmade booties and blankies danced in my head.  Turns out, knitting requires quite a bit of coordination and, unfortunately, my fingers did not get the memo. The lowest point came when my brother yanked the needles out of my hands and whipped up the loveliest little scarf you've ever seen. ON HIS FIRST TRY!
I'm not bitter, though.
A few weeks later I was in a trendy Austin boutique and saw the cutest baby onesies. And then I saw the ridiculous price tag! At that moment I discovered my new hobby.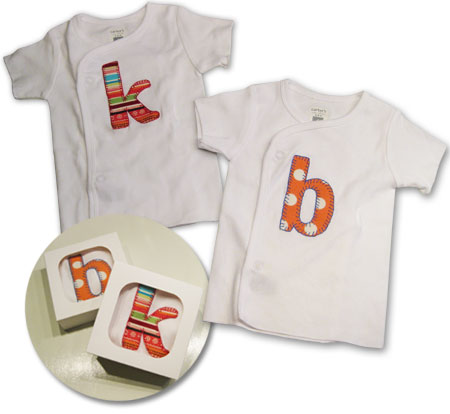 Above: Side snap tees customized for Baby Kate and Baby Ben
Etsy would probably turn up it's nose at my shoddy sewing skills, but that's okay. My friends are keeping me plenty busy and the babies have yet to complain about crooked stitches. So, I plan to stick with it for now.
And leave the knitting to Trent.